NATO's Baltic air exercises to involve civil airports and 'aircraft diversion' for 1st time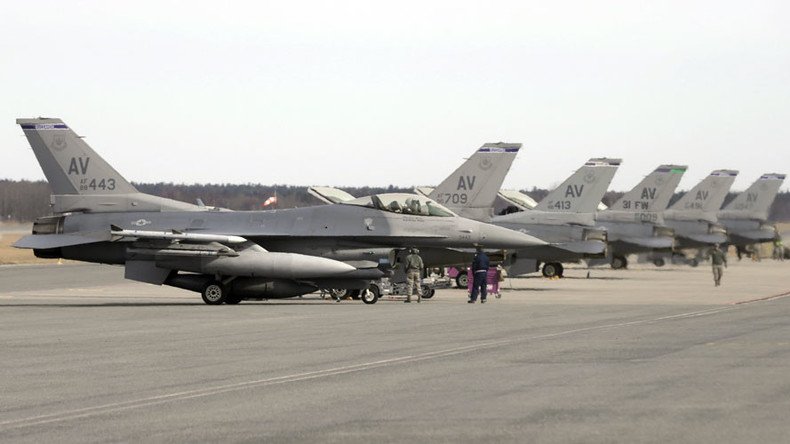 Several NATO countries, as well as non-members Finland and Sweden, are sending planes to Estonia for the first massive air force exercise to feature civilian airports aimed at training for interception of "aircraft losing contact inside Finnish airspace."
The two-day exercise called Ramstein Alloy 1 will kick off at the Estonia's Amari Air Force Base next Thursday and will involving warplanes and aircrews from Belgium, Spain, and Poland, as well as non-NATO members Finland and Sweden, according to a statement from the Allied Air Command stationed at Ramstein, Germany.
"A United States Air Force tanker, a transport aircraft and an E-3D Airborne Early Warning plane from RAF Waddington in the United Kingdom will support the two-day maneuvers," it added.

"The training scenario simulates a transport aircraft losing communication contact inside Finnish airspace. Finnish interceptors will intervene with the aircraft that lost communications, then hand it over to the Belgian interceptors who will escort it back to Amari Air Base."

Belgian F-16s are currently stationed at Amari within the so-called Baltic Air Policing mission, in which NATO countries deploy air force units in Estonia, Latvia and Lithuania, which have none.
During the drills, NATO aircraft will reportedly train for so-called "diversions" of intercepted planes at civilian airports in all three Baltic states, conducting "low approaches to these airports to train procedures and cooperation with local air traffic control."

According to the official statement, the key task of the exercises is to train the bloc's pilots to use "the airports in case of emergency during real-world missions, as required."
The airspace over the Baltic has previously seen close encounters between NATO and Russian planes. In the most recent incident, a Russian Su-27 fighter jet was scrambled to intercept an American Boeing RC-135 spy plane flying close to the Russia's Baltic Fleet base. The Pentagon has dubbed the maneuver "unsafe and unprofessional."
Earlier in March, NATO's Eurofighter Typhoons tried to approach a Russian VIP plane carrying Defense Minister Sergei Shoigu, who was headed to Kaliningrad, Russia's western exclave, to inspect military facilities.

NATO has launched a massive military build-up in the Baltic and Eastern Europe, citing what it calls Russian aggression in the region. In May of last year, NATO Secretary General Jens Stoltenberg announced that the bloc was planning to deploy new command units in Latvia, Lithuania, Estonia and Poland, as well as Bulgaria and Romania. Moscow, in turn, sees NATO's drive eastwards as aggressive and in violation of post-Cold War agreements.
You can share this story on social media: