Dilma Rousseff loses impeachment vote in Brazil's lower house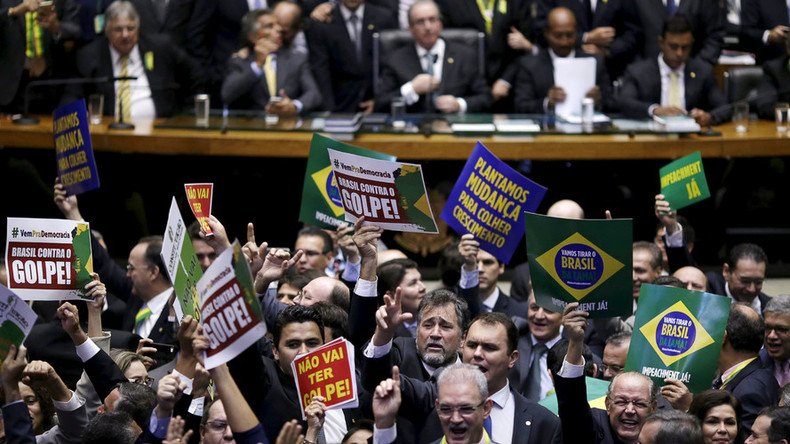 A majority in the lower house of Brazil's Congress has voted for the president's impeachment. Hundreds of thousands of Dilma Rousseff's opponents and supporters have been rallying across the country.
With 481 votes having been cast so far, 348 congressmen voted in favor of Rousseff's impeachment and 133 voted against or abstained. The impeachment backers needed a two thirds majority or at least 342 votes in the 513-set body for the measure to move on to the Senate.
The ruling Workers' Party has admitted the defeat with the party's leader in the chamber, Jose Guimaraes, saying that the battle will now move into the Senate.
"The fight continues now in the Senate," Guimaraes told reporters as cited by Reuters.
The government is confident that the Senate will dismiss the impeachment, said presidential chief of staff Jaques Wagner, rejecting the vote as "orchestrated" by Rouseff's opponents who never accepted her re-election.
If the Senate then decides that there are legal grounds for an impeachment and over half of the body backs it, Rousseff would be temporarily suspended from office pending a Senate trial.
Meanwhile, hundreds of thousands of pro-and anti-Rouseff protesters took to the streets of major cities across the country ahead of the vote on Sunday.
A two meter high wall, stretching for more than a kilometer, was has been erected in from of the Congress building in Brasilia to separate the rivaling crowds.
Earlier on Sunday, the Workers Party members waved red flags and set off fire crackers in the car park of Brasilia's football stadium before heading out to the Congress.
"There won't be a coup, there will be a fight," the crowd shouted, referring to Rousseff's earlier claims that impeachment is illegal and would equal to a coup d'etat.
Thousands of policemen were deployed on buses to the capital to provide security and maintain order before and after the vote.
According to the polls, 60 percent of Brazil's 200 million population support impeaching Rousseff, whose inner circle has been involved in a huge corruption scandal in state-owned oil company Petrobras. The president herself has not been personally charged with corruption.
You can share this story on social media: