US took advantage of EU by forcing it to sanction Russia – European MP
Washington tricked the EU by forcing it to impose disadvantageous sanctions against Russia, a European lawmaker told RT at an International Economic Forum in Crimea. Other MEPs attending the forum said the restrictive measures must be lifted.
"The US was pushing the EU, especially, Germany to sanction Russia. What happened is when we put sanctions on Russia the US business stepped into Russia," German MEP Markus Pretzell, told RT.
Pretzell, who is a member of the Alternative for Germany (AfD) party, slammed EU's foreign policy chief, Federica Mogherini, for her recent comment that there would be no "business as usual" with Moscow.
"She's a puppet of the EU and US establishment," the European Parliament member said of Mogherini.
Read more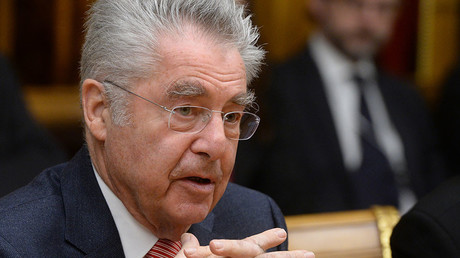 The German also said that before his trip to Russia, Ukraine's ambassador to Berlin threatened him on Twitter with "consequences" over his "illegal visit to occupied Crimea."
Italian politician, Stefano Valdegamberi, told RT's Daniel Bushell that the Crimean climate reminded him of his home country, calling the peninsula "an ideal investment" for European business.
"Sanctions have cost us billions of euros in lost exports, it's time for the EU to end them," Valdegamberi stressed.
A Czech MEP, Jaromir Kohlicek, agreed that "sanctions are good for nothing" and end up hitting ordinary people.
The restrictive measures were "very harmful" for the Czech Republic, "especially for small business and medium business," involved in agriculture and production of consumer goods, he added.
READ MORE: 2 years on almost all Russians support reunification with Crimea
Kohlicek expressed hope that reports of some easing of sanctions by summer will turn true as Europe and Russia "won't survive without each other."
Austrian MP Barbara Rosenkranz told RT that "there's a lot of interest to get sanctions a bit lower" in the European Union.
In March 2014, Crimea's mostly Russian population voted to secede from Ukraine and join Russia, but the referendum staged in the peninsula received no recognition in the West.
"I do think there are double standards. I do have the impression that if the referendum fits the plans of the establishment, they agree to it, and if it doesn't – they don't agree to it and don't accept it," Axel Kassegger, an Austrian MP said.
Valdegamberi also spoke out against the international isolation of the Black Sea peninsula, saying "Italy's much nearer to Crimea, having to fly several hours on to Moscow then transit back is just absurd."
READ MORE: 'Nothing new': Moscow slams EU's 5 principles of relations with Russia
The US and the EU introduced political and economic sanctions against Russian state-owned banks, defense and oil companies, as well as individuals because of both Russia's reunion with Crimea and Moscow's alleged direct military involvement in the conflict in eastern Ukraine.
The International Economic Forum concluded in Crimea's Yalta on Saturday, gathering over 1,000 participants from 25 states, including politicians, businessmen, activists and members of the European Parliament.