'Multiculturalism kills': Right-wing extremists storm play performed by refugee actors in Vienna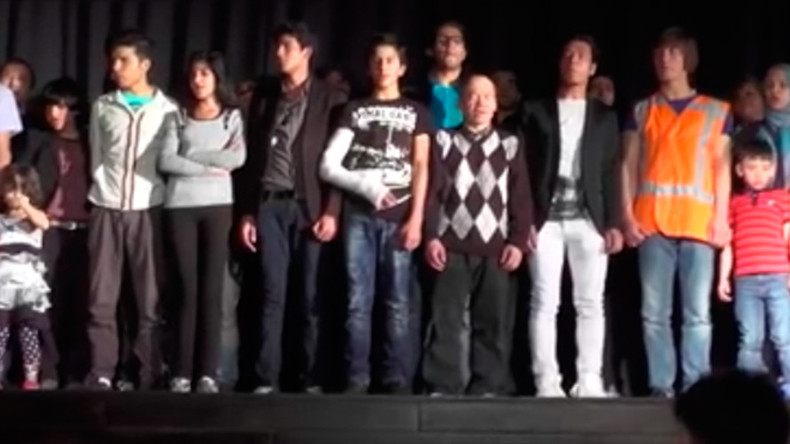 Austrian police have launched an investigation after several right-wing extremists stormed a play featuring refugees as actors, spraying fake blood on the audience.
The group took over the stage shortly after the opening of the play, titled 'Die Schutzbefohlenen' (The Protected). The play, staged at the University of Vienna, featured actors from Syria, Iraq, and Afghanistan.
Up to 40 people, mainly men, were involved in the incursion, Vienna police spokesman Thomas Keiblinger told Austria Press Agency.
Running to the stage in front of some 700 audience members, the group waved flags and unrolled a banner reading "Hypocrites! Our resistance to your decadence."
The group also tweeted a photo of the incident, accompanied by a message: "We remind the Multikultis of the blood of Bataclan!"
They threw fake blood into the audience, as well as flyers bearing the slogan "multiculturalism kills." A scuffle soon followed between spectators and protesters.
The group responsible for storming the stage were thrown out and subsequently fled from the scene.
Four of the assailants have been identified, police say.
Eight people have filed charges for bodily harm against the protesters, Keiblinger said.
After the upheaval, the play continued to the end under the watchful eye of several police officers, he added.
Austrian Culture Minister Josef Ostermayer described the incident as "shocking," adding that it was the latest in a series of attacks by the Identitarian group, which began in France in 2002, deriving from the youth wing of the anti-immigrant Bloc Identitaire.
"The constitutionally guaranteed freedom of the arts and freedom of speech are as untouchable as the protection of minorities," he said.
Written by Austrian Nobel Prize laureate Elfriede Jelinek, the play was first staged in Germany in 2014, and is about the occupation of a Viennese church by 60 asylum-seekers who were due to be deported. It is seen as an attack on what the author believes to be Europe's inhumane treatment of asylum seekers.
READ MORE: Muslim-haters fall for satirical Facebook meme, mistake Harry Potter character for mullah

Austria, which took in 90,000 refugees last year, has toughened its stance on new arrivals. Earlier this month, it said it was considering placing troops at its border with Italy, to help bring the refugee crisis under control.
Europe continues to face the worst refugee crisis since World War II, with over a million asylum seekers arriving to the continent in 2015. Most of the refugees are from Syria, where a civil war has killed 250,000 people and displaced more than 12 million since 2011, according to UN figures.