Powerful 7.1 quake strikes Japan's Kumamoto day after deadliest tremor since 2011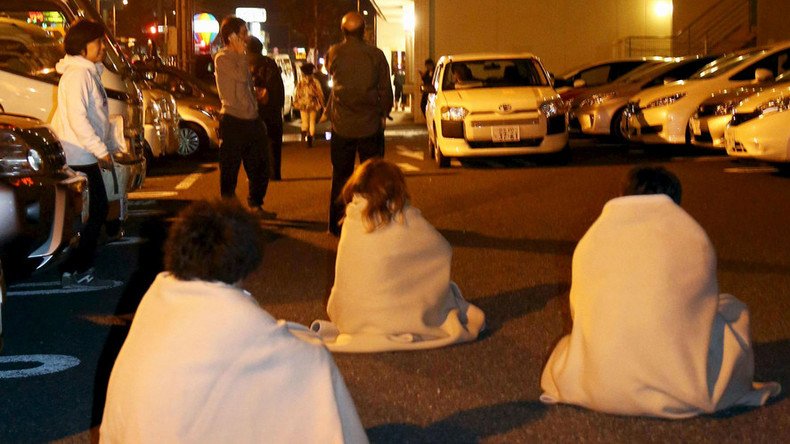 A magnitude 7.1 earthquake has struck Japan near the city of Kumamoto on the island of Kyushu, killing at least eleven people. Japan Meteorological Agency briefly issued tsunami warnings for the area which is still recovering from Thursday's devastating tremors.
According to Japan's Kyodo news, over 760 people have been treated in various hospitals, but the report did not specify the kinds of injuries or their severity, saying that the figure included "people who don't feel well."
The epicenter of the quake, which struck in the early hours of Saturday, was located at a shallow depth of 10 kilometers, near the area where a 6.5 earthquake struck on Thursday.
According to the US Geological Survey, the quake had a magnitude of 7.0 and its epicenter was located just 1 km southwest of the city of Kumamoto.
Japan Meteorological Agency initially said the quake was 7.1 magnitude, but later revised it up to 7.3.
An aftershock of 5.8 magnitude has also been reported in the area.
A tsunami advisory was issued for the Ariake and Yatsushiro Seas, but it was later lifted by Japan's Meteorological Agency.
The earthquake has caused buildings to collapse, roads to buckle, and has brought down power lines.
NHK reported that some people have been trapped in the area around Kumamoto.
The Sendai Nuclear Power plant, the only operational nuclear power facility in Japan, is located in the region. The plant continued to operate, NHK reported, saying that no irregularities had been discovered at the nuclear facility. No irregularities have been reported at the other two plants in the area, the Genkai plant and the Ikata plant.
Prime Minister Shinzo Abe has told reporters that his government is still evaluating the extent of the damage as well as continuing rescue and recovery measures.
"It's possible that there may be damage over a wide area," Abe said, according to NHK.
The deadliest quake since 2011 hit the country earlier this week, when a 6.5 magnitude earthquake struck east of Kumamoto on Thursday. At least nine people were killed and more than 1,000 were injured in the natural disaster.
READ MORE: 9 killed, over 850 injured in deadliest Japan quake since Fukushima (PHOTOS, VIDEOS)
Most of the buildings that collapsed during the previous earthquake were old wooden houses, the broadcaster said, adding that highways have also cracked in many areas.
Over a hundred aftershocks have hit the region following the initial Thursday tremor, Reuters reported. Officials have then warned that the risk of further strong aftershocks would remain for about a week.
You can share this story on social media: