Bulgaria's Bokova wants 'more efficient UN' as she campaigns to be next secretary-general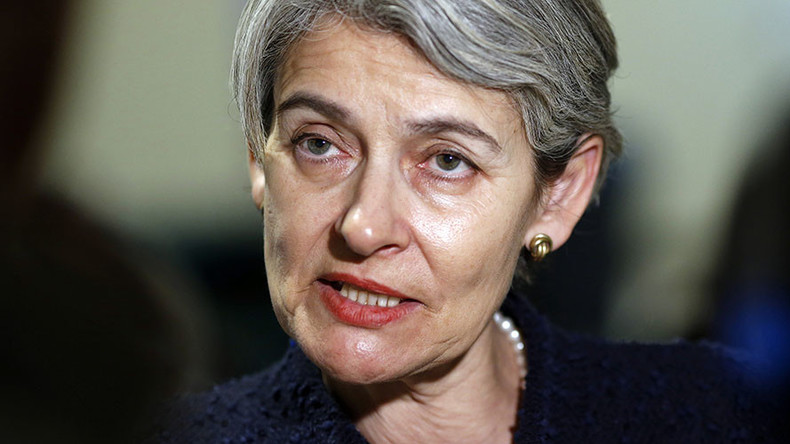 She has already been trying to promote education and culture globally for the past six years as the head of UNESCO, but now Irina Bokova wants the top job – to become the next secretary-general of the UN after Ban Ki-moon steps down. He has served two five-year terms.
The Bulgarian diplomat understands just how tough the task will be if she is elected to the position. The world has just witnessed the largest refugee crisis since WWII, with millions fleeing fighting and poverty in the Middle East and North Africa. However, she also believes that the UN needs to be more in touch with the seven billion humans currently living on the planet.
'Working in silos cannot go on'
"The United Nations [needs] to become more fit for purpose, more efficient, effective and accountable to the demands of Member States. Working in silos cannot go on," she wrote in her vision statement.
Bokova believes that she can build on her success as the director-general of UNESCO, a position which she has held since November 2009. She has looked to use education as a tool in order to bring peace and encourage dialogue, while also trying to prevent conflicts and violent extremism.
"My record is also about a reform agenda that is driven by efficiency measures, transparency and strong management, including as Chairperson of the UN High-Level Committee on Management," she mentioned.
She played a leading role in the fight against racism and anti-Semitism, such as spearheading UNESCO campaigns concerning Holocaust remembrance and awareness. She was also the first director-general of the cultural body to appoint a Special Envoy for Holocaust Education.
It is largely expected that the position of secretary-general will go to a candidate from eastern Europe, while a woman is yet to head the organization despite its 70-year history. During her tenure as the head of UNESCO, Bokova has presided over a significant number of females holding senior positions, the number of which have increased from 24 percent to almost 44 percent.
"I think with some imminent appointments that will come, we will achieve gender parity," she mentioned.
'Gender equality is a basic right'
Half of the candidates who have been nominated are women. Aside from Bokova, they include former Croatian Foreign Minister Vesna Pusic, Moldova's former Foreign Minister Natalia Gherman and former New Zealand Prime Minister Helen Clark, who heads the UN Development Programme.
If elected, Bokova would like to see the development of women's rights around the globe, despite believing promoting gender equality will be "one of the steepest challenges of the 21st Century."
"Gender equality is a basic human right and I am convinced in its transformational force to establish more just, inclusive and sustainable societies. I consider that the UN has to take the lead in showing strong commitment to ending impunity for violence against women and girls," she said.
Bokova has also proven, as the head of UNESCO, that she will not be bullied by geopolitics, which was best seen in 2011 when the UN members voted to give Palestine full membership of the cultural body.
The US and Israel were two of the 14 countries to vote against Palestine's accession, while Washington reacted by canceling its funding to the organization.
"I regret to say that I'm seeing, in these last two years a declining American influence and American involvement. I can't imagine how we could disengage with the United States at UNESCO," Bokova said in November 2013.
Security Council to pick new head
It is unclear whether the US still harbors resentment against Bokova for that move. The Bulgarian candidate will need cooperation from Washington, but also the four other members of the Security Council – China, France, Russia and the United Kingdom, if she wants to be elected into the position.
However, in a departure from the 70-year-old tradition of just the Security Council picking the secretary-general, a further 10 nations will be able to influence the body. The candidates will also have the opportunity to make campaign-style pitches to the General Assembly.
"For us it's important to hear what others think, and I'm sure they will not be shying away (from) telling us who they like, so it's going to be an interesting process," said Russia's Ambassador to the UN Vitaly Churkin.
However, the council's five permanent members will still have to unanimously agree on who they want to pick.
A gifted linguist
Bokova was born in Sofia, the capital of Bulgaria, in 1952. Her father Georgi Bokov was a resistance fighter during WWII. He would later become the chief editor of the Bulgarian Communist Party's official newspaper.
She moved abroad to study at the prestigious Moscow State Institute of International Relations and later at the University of Maryland and Harvard in the United States. After stints at the Bulgarian foreign ministry and its UN mission in New York, Bokova was elected as an MP for the Socialist Party after the fall of communism in 1989.
Bokova is a gifted linguist, who apart from her native Bulgarian is also fluent in English, Russian, French and Spanish. She also briefly served as Bulgaria's foreign minister from November 1996 to February 1997 when she led the country's bid to join the EU.
Following the liberation of Palmyra from Islamic State (IS, formerly ISIS/ISIL) terrorists by the Syrian Army, backed by Russian air support, Bokova held a telephone conversation with Russian President Vladimir Putin.
"I stand ready to send a UNESCO emergency assessment experts' mission to map the damages at the UNESCO World Heritage site of Palmyra", she said.
Putin also expressed his desire to provide immediate support and expertise to aid the UNESCO mission. On Tuesday, the Russian Defense Ministry confirmed that Russian engineers had cleared around two square kilometers around the ancient ruins, defusing some 3,000 bombs in the process.
UNESCO also approved a Russian-backed plan to try and restore Palmyra to its original state after parts of the site were decimated and blown-up by the IS terrorists. The motion was approved unanimously during the organization's 199th session which is currently taking place in Paris.
You can share this story on social media: