Amsterdam Airport Schiphol evacuated over bomb scare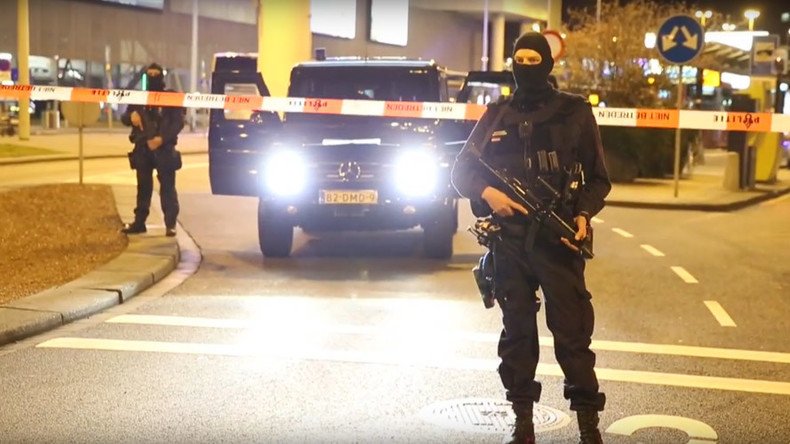 Suspicious luggage caused the partial evacuation of Amsterdam Airport Schiphol late Tuesday due to a major "security threat." The air hub has been given the all-clear and services have returned to normal after military police confirmed that no explosives had been located.
Heavily armed military police wearing balaclavas sealed off parts of the country's busiest airport for hours after arresting a man and calling in explosives experts to check his luggage. A special police robot was deployed at the airport to search for potential explosives.
A witness told the AT5 news outlet said that he saw military policemen chasing the suspect before tackling him to the ground. The incident took place at around 9:45pm local time.
Military police and fire personnel were called to the airport and began evacuating the plaza inside of the airport as well as a train station and bus station outside. Once the evacuation was complete each of the three areas was cordoned off to keep people from entering.
After searching the perimeter and examining the baggage of the arrested man in the presence of an Explosive Ordnance Disposal (EOD) team, a special unit of the Dutch Armed Forces tasked with diffusing bombs, authorities went off to lift tight security measures at Schiphol.
"No dangerous materials were found," military police spokesman Alfred Ellwanger told AP, adding that the suspect remains in custody and is under investigation after "a report of a suspicious situation," lead to the evacuation. He had no details on the man's identity.
Airport officials have now cleared the previously cordoned off area of the airport and announced that all services serving the airport have resumed normal operations.
All areas are accessible again. Tomorrow, flights will run as usual. Thank you all for your patience and understanding tonight.

— Schiphol (@Schiphol) April 12, 2016
You can share this story on social media: