Syrian Army repels Al-Nusra offensive in Latakia mountains (DRONE VIDEO)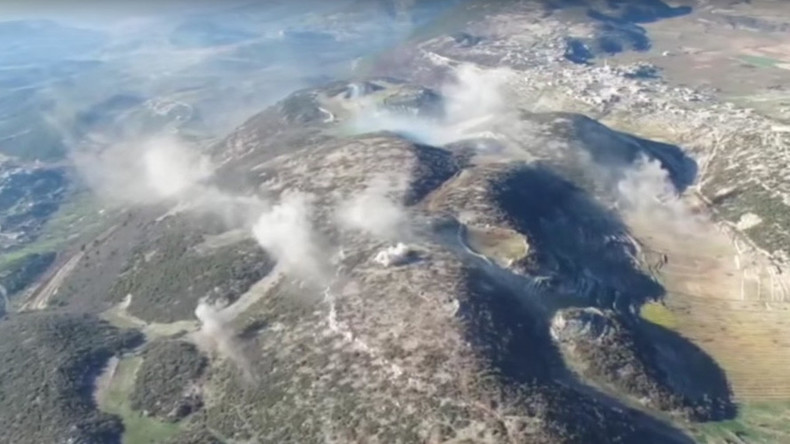 After intense fighting with a conglomerate of Islamist militants, the Syrian army has managed to recapture positions in Latakia province's Turkmen Mountains, that had been previously lost to terrorists' attempt to secure the border with neighboring Turkey.
Drone and ground footage of the offensive against Islamist factions led by Al-Nusra brigades and Turkmen militants in the north-eastern Latakia region, show fierce battles for control of the mountain tops.
According to various media reports, the jihadist factions began a major offensive in several hills in the Kinsabba township and managed to capture a number of strategic points in the Turkmen Mountains over the day on Sunday.
The Syrian army threw its back behind the offense on Monday to secure parts of the border between Syria and Turkey, and the road towards the western countryside of Idlib, cutting the jihadists' supply routes in the region.
#سوريا: مراسل الميادين: الجيش السوري يستعيد السيطرة على برج البيضاء بريف اللاذقية ويقطع طريق المسلحين من اليمضية

— الميادين عاجل (@AlMayadeenLive) April 11, 2016
Using heavy artillery and tanks, the army, according to reports, managed to drive back the jihadists who also bombarded the army lines with heavy artillery fire. Social media reports say the army has managed to recapture the lost positions, with many of the jihadist fighters fleeing north into Turkey. Fighting in the area continues.
Read more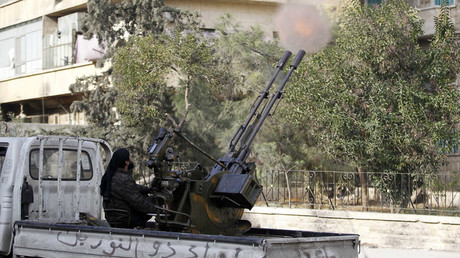 The Russian defense ministry confirmed that Al-Nusra had rejuvenated its attacks in Latakia province on Sunday, but stated the "Syrian Army with the help of the artillery repelled the attack." The ministry also added that "air strikes" were conducted to drive the Islamists back.
Meanwhile Russia has also warned that Al-Nusra called to action nearly 10,000 troops around the city of Aleppo and is planning a major offensive.
"It is reliably known that the militants are planning a large-scale offensive with the aim of cutting off communication between Aleppo and Damascus," said Lt. Gen. Sergey Rudskoy, head of operations at the Russian General Staff, at a scheduled press briefing in Moscow. "If they are not stopped, we could see a blockade of northern parts of Syria."
Overall the fragile ceasefire brokered by Russia and the United States in February is holding up. The end of hostilities does not cover terrorist groups such as Islamic State and Jabhat al-Nusra, both outlawed in Russia, and other groups recognized as terrorist by the United Nations Security Council.