RT camerawoman injured amid Paris anti-labor reform protests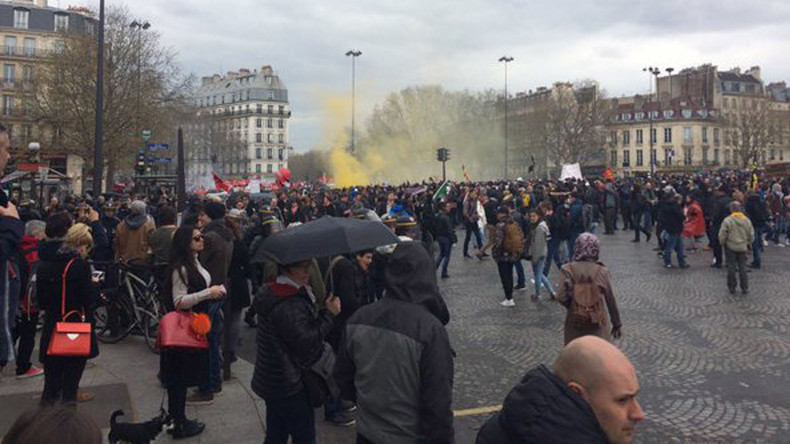 An RT camerawoman was injured while covering massive anti-labor reform protests in the French capital, while an RT France correspondent was caught in tear gas as police tried to disperse demonstrators.
As a standoff between riot police and protesters escalated, RT UK camerawoman Hulya Sen received an injury to her leg.
"She was filming and she says some kind of explosive device was thrown and it exploded near her foot and she has a bleeding leg," RT's Anastasia Churkina reported from Paris. She added that the camerawoman was safe, and that the explosive device had apparently been thrown by a protester.
Earlier in the day, the camerawoman had been pepper-sprayed by a police officer.
RT France correspondent Kyrill Kotikov-Convenant was also exposed to tear gas as police tried to disperse the rioters. He was on the spot covering the rally live through Periscope.
According to AFP reports, 2,000 to 8,000 protesters flooded the streets of Paris to protest labor reforms put forward by Labor Minister Myriam El Khomri. The government says the reform package will reduce unemployment through a number of measures, including reducing payment for working overtime. Anti-reform rallies have also taken place in other cities, including Nantes and Rennes.