'Nuit Debout': Huge anti-labor reform protests rock France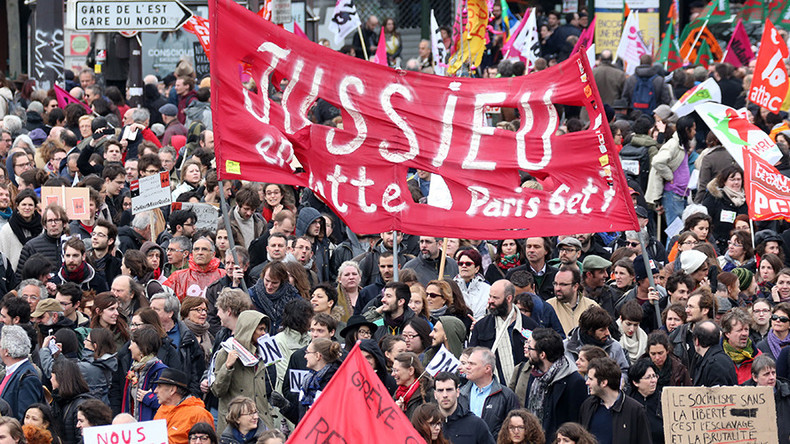 Thousands of people across France have taken to the streets to voice their protest against a newly proposed labor reform. Some rallies took a violent turn with police deploying tear gas to disperse and dozens reported injured.
10 April 2016

08:05 GMT

Hundreds of people have staged a protest in front of the residence of French PM Manuel Valls, BFMTV reported. The demonstrators were then blocked by police forces, who deployed tear gas against them.
"Paris, rise up," chanted the demonstrators.

08:05 GMT

At least eight people have been arrested "for throwing stones, carrying prohibited weapons, burglary and vandalism" during the Paris protests, the city council said.

09 April 2016

16:06 GMT

At least 8,000 people gathered in the streets of Toulouse.

16:06 GMT

Demonstrations against the labor reform are also take place in the city of Lille, local media reported.

16:05 GMT

RT UK's camerawoman Hulya Sen has sustained an injury in her leg while covering the protests in Paris.

"She was filming and she says some kind of explosive device was thrown and it exploded near her foot and she has a bleeding leg," RT's Anastasia Churkina reported from Paris.

Churkina said Hulya was all right. The explosive device was apparently thrown by a protester, she added.

16:05 GMT

RT France correspondent Kyrill Kotikov-Convenant, who is live-feeding the event through Periscope in Paris, has got caught in tear gas.

16:04 GMT

"Still no fear" and "Democracy, where are you?" is written on demonstrators' banners in Paris.

Other banners read "For life without war" and "Stop the [labor reform] project."

16:03 GMT

In Nantes, demonstrators have broken the windows of a local shop and set it on fire, while tear gas has also been deployed.

According to the city council the rally has gathered 2,600 people. But trade unions claim that at least 15,000 activists are taking part in the demo.

The protesters in Nantes have been throwing stones, eggs and firecrackers at police, AFP reports.

16:02 GMT

About 15,000 people have taken to the streets of Toulouse, according to local press.