Police operation & evacuation in Brussels, snipers & deminers called in – report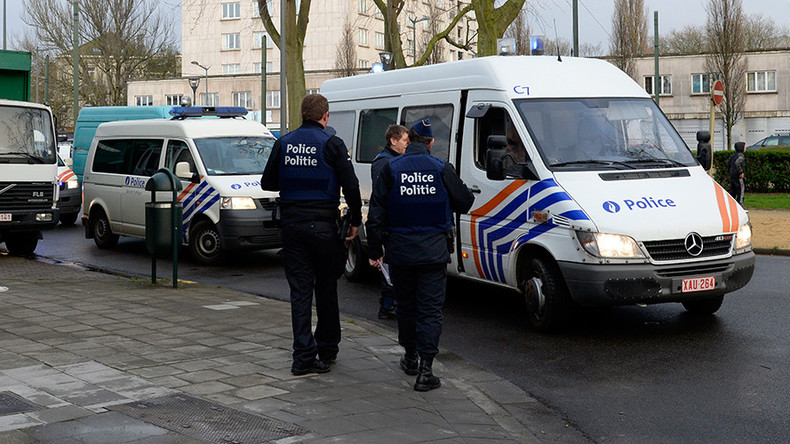 A police operation reportedly linked to the deadly March attacks has taken place in the Brussels district of Etterbeek, local media reported, adding that at least 50 police officers, including snipers and deminers, were deployed.
The police searched a building in the area, a Reuters journalist at the scene said, adding that forensics experts were seen entering the building. The building's resident were also reportedly evacuated.
Emergency services have been seen in the area, Belgian RTBF TV channel reports.
RTBF reported that at 1.30pm local time (11:30 GMT) the deminers left the scene, but the area remains cordoned off.
No official comment concerning the operation has been released.
Reuters journalist at the scene said no arrests were made during the raid.
Belga news agency later reported that the police operation "seems to be over" in Etterbeek . The aim of the operation is still unknown, and no information on the raid has been released by federal prosecutors or police.
Photos on local media show officers in hazmat suits working at the scene.
The operation comes less than a day after the detention of a major suspect in the Paris terror attacks, Mohamed Abrini, in the city of Anderlecht. Abrini is believed to be the "man in the hat" pictured with the attackers at Brussels Airport last month, just before two bomb blasts rocked the site, VRT cited various sources as saying.
On Saturday, the Belgian prosecutor said the sixth suspect behind the Brussels and Paris attacks had been detained. He was identified as Osama Krayem, a Swede who, as had been earlier reported, left the Swedish city of Malmo to fight in Syria.
"He also tried to recruit people in Malmo,'' Magnus Ranstorp, a counterterrorism expert at the Swedish National Defense College, told The Associated Press.
Belgium is on high alert following deadly attacks in Brussels on March 22. The Belgian capital was hit by twin suicide bombings at Zaventem Airport and Maelbeek Metro station, killing at least 32 people and injuring scores more.
The Metro station was not far from the building housing the EU Commission and the Council of the European Union, as well as NATO's headquarters.