5 facts about Jaysh al-Islam, group that used chem weapons in Syria & has delegate at UN peace talks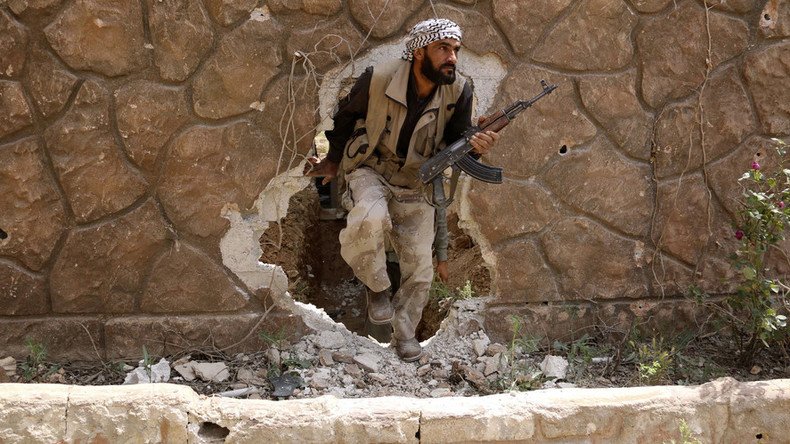 The Islamist group Jaysh al-Islam admitted to using chemical weapons against Kurdish militias in Aleppo. It also uses human shields and publishes execution videos – yet it has a delegation at the UN-backed Syria peace talks in Geneva.
Jaysh al-Islam (Army of Islam), formerly known as Liwa al-Islam (Brigade of Islam), is a coalition of Salafist Islamist militant groups based in the Douma and Eastern Ghouta neighborhoods of the Syrian capital Damascus.
1 Who supports it
Jaysh al-Islam is one of the two major militant groups in Syria supported by Turkey, Saudi Arabia and Qatar, and is part of a larger coalition called the Islamic Front. The coalition seeks to make Syria a country ruled by sharia law, exactly what its rival Islamic State (IS, formerly ISIS/ISIL) aims to achieve.
2 Who considers it terrorist
The group is considered a terrorist organization by Syria's allies Russia and Iran, and also by Egypt. It describes as "brothers" fighters of the Al-Nusra Front, the Syrian branch of Al-Qaeda, which is considered a terrorist group by the UN and many nations.
3 ISIS-style executions
In June 2015 Jaysh al-Islam released a video of the execution of captured Islamic State fighters, which mimicked similar videos produced by the notorious terrorist group. Unlike IS, Jaysh al-Islam dressed the executioners in orange prison robes, rather than their victims.
4 Allegations of using human shields
In November 2015 the group was exposed as using caged men and women as human shields in Eastern Ghouta. The people were reported to be Alawites, including military officers of the Syrian Army and their family members who had been taken captive.
5 Peace talks participant
In December 2015 Jaysh al-Islam sent a delegation to Riyadh, where Saudi Arabia was hosting a conference of Syrian armed groups. Mohammed Alloush, the brother of Jaysh al-Islam founder Zahran Alloush, was elected chief negotiator for UN-backed peace talks in Geneva. Zahran Alloush was reportedly killed by a Russian airstrike days later.
You can share this story on social media: