'Impossible to belittle Russia's role in Syrian settlement' – Putin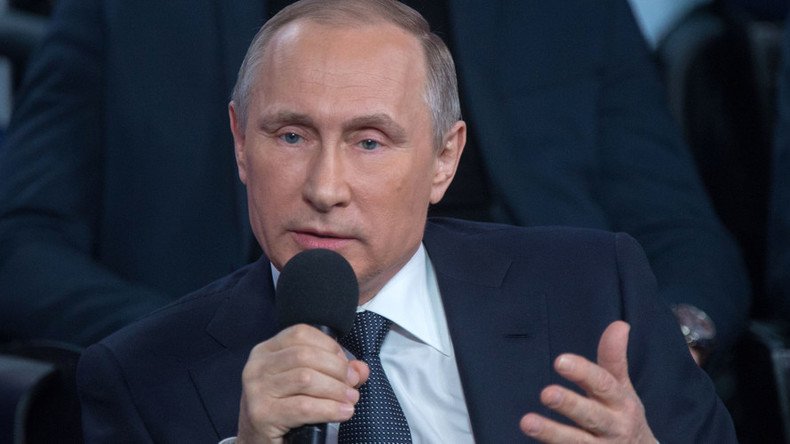 No matter how hard you try, it's impossible to cover up the role and importance of Russia's actions to combat terrorism in Syria, Russian President Vladimir Putin told "Truth and Justice," a media forum of regional and local media in St. Petersburg.
"No matter how much one tries to belittle the role, the importance of our actions to combat terrorism, to silence these events is simply not possible," Putin said on Thursday, adding that the desire to hush up Russian successes is "still there," RIA Novosti quoted the Russian president as saying.
It's too early to talk about radical change in Syria, but one thing is certain – Russia helped strengthen the state system in the country, Putin said.
"To say that a fundamental change has taken place there is still too early at the moment. But [to say] that we have fulfilled our task – that's quite obvious. Our task was first and foremost to strengthen Syria's statehood and legitimate state institutions," Putin told the forum, according to TASS.
The West has failed to isolate Russia after the reunification with Crimea but came to realize that it's impossible only after the Russian military operation in Syria, Putin added.
"At first they talked about the need to isolate Russia after the well-known events, for example, in Crimea. Then it became clear that this is impossible, and with the beginning of our operations in Syria the understanding of the impossibility of such destructive actions against our country became completely obvious," Putin said.
He added that major irritants in Russia-West relations were such things as Russia's opinion on the events in Ukraine and the refusal to return former US National Security Agency contractor Edward Snowden.
"Our attitude to the events in the south-east of Ukraine, along with some smaller-scale things like non-extradition of Mr. Snowden... These appear to be the irritants in our relations, some of our partners believe. They [the West] got used to a monopoly in the international arena and are a law unto themselves," Putin said, according to RIA Novosti.
You can share this story on social media: