Russian Alligator helicopters destroy ISIS positions in Syria (VIDEO)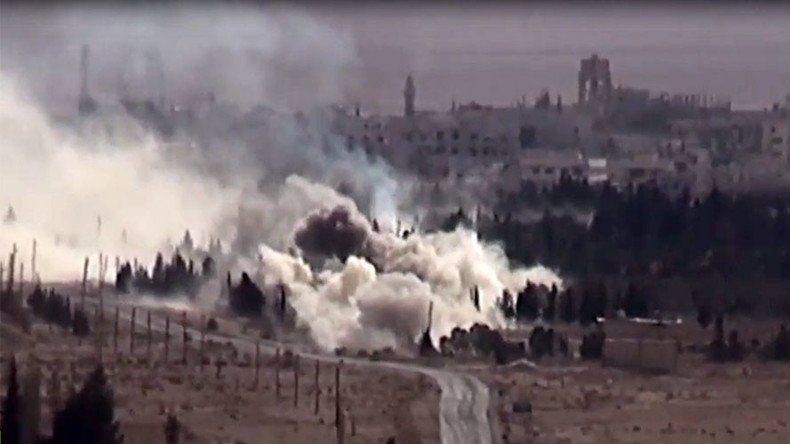 A group of Russian Ka-52 helicopters has been captured on film in Syria taking part in airstrikes against Islamic State positions. The helicopters were targeting the terrorist group's sites in the Homs province.
The helicopters were operating between Palmyra and Al-Qaryatain, which has recently been liberated by the Syrian Army from Islamic State (IS, formerly ISIS/ISIL) control.
The Ka-52 Alligator, which has been in operation since 2011, is one of the Russian Air Force's most advanced helicopters.
Al-Qaryatain was liberated from IS control on Monday. The majority-Christian town is around 100km (60 miles) west of Palmyra, where army sappers from Russia's International Mine Action Centre are continuing to remove explosives from the roads leading to the ancient Syrian city.
Palmyra was liberated on March 27 by the Syrian Armed Forces with the help of the Russian Air Force after being under the control of IS since May.
The Ka-52 Alligator is equipped with a caliber 2A42-1 aircraft gun, and can also carry a Strelets missile system, launch systems for guided missiles such as Ataka and Vikhr-1, as well as a launch system for S-8 unguided missiles.
The machine is propelled by a coaxial rotor system, a trademark of the Kamov design bureau that developed it, while the design gives the helicopter extreme maneuverability.
You can share this story on social media: