Demining Palmyra: Russian experts defuse over 100 mines in ancient Syrian city (VIDEO)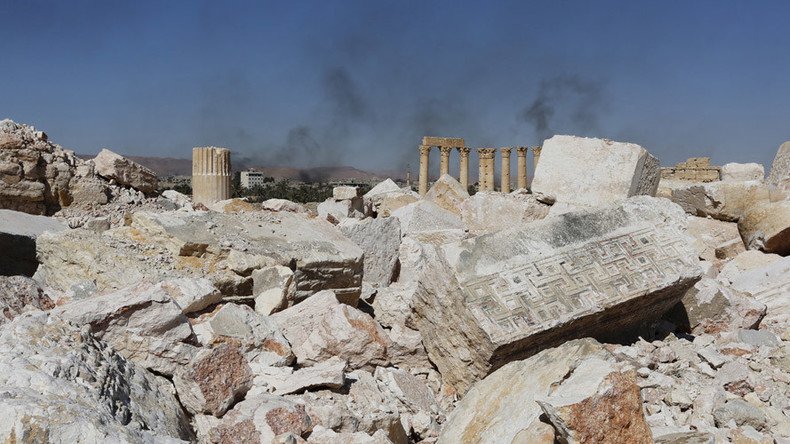 Russian mine disposal experts have begun demining the historical areas of the embattled city of Palmyra, which was recently liberated from Islamic State (IS, formerly ISISL/ISIS) by the Syrian army with the help of Russian air and special forces.
READ MORE: Missing monuments: Before & After pics of Palmyra show what ISIS has destroyed
"Within last 24 hours, the engineers have cleared 4 hectares of the historical part of the city. They have defused 108 explosive devices," reads a statement from the Russian Centre, which is aimed at reconciling the opposing sides and tasked with overseeing compliance by all parties to the Syrian conflict's cessation of hostilities agreement.
It was reported earlier that experts from the International Mine Action Centre of the Russian Armed Forces had successfully detected and defused explosive devices that had been planted inside vital infrastructure in Palmyra, such as power stations and hospitals, as well as historic sites. In total, 120 explosive devices were rendered safe and 1.1 kilometers of roads were cleared of explosive devices.
The UNESCO World Heritage Site, which once attracted over 150,000 tourists per year, now lies in shambles. Since its capture by Islamic State in May of 2015, the city has suffered a lot. Its famous Arch of Triumph, a major lure for sightseers, was blown up, and many temples and gravesites were looted or destroyed in so-called "cultural cleansing." The city was finally liberated by Syrian ground troops on March 27. The Russian Air Force struck some 2,000 IS positions, destroying the terrorists' artillery and preventing convoys from Raqqa and Deir ez-Zor from reinforcing the ailing Islamic State forces there. In the course of the joint Syrian-Russian operation, Aleksandr Prokhorenko, a 25-year-old Russian special forces serviceman, called fire upon himself when he was compromised by the militants. The officer, dubbed "Russian Rambo" by the media, was tasked with guiding Russian warplanes to terrorist targets.
Demining Palmyra

Russian and Syrian sappers descend upon UNESCO World Heritage Site: Palmyra to rid area of mines left by retreating ISIS

Опубликовано RT Play 5 апреля 2016 г.
In total, nearly 3,000 explosive devices, many hidden under roads, were rigged in Palmyra, according to the sappers working on the ground. If they all went off at once as intended, they could theoretically blow up the entire city.
The recapture of the historic site, which is of strategic importance due to its location, is considered to be Damascus' most significant recent military achievement in its civil war with opposition and jihadist forces.
You can share this story on social media: