Armenia, Azerbaijan report hostilities ongoing in Nagorno-Karabakh after Baku's unilateral ceasefire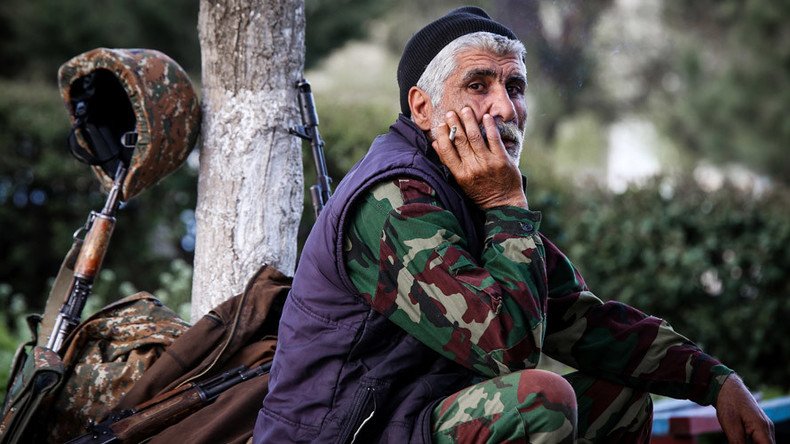 Armenia and Azerbaijan report hostilities are continuing in the Nagorno-Karabakh despite Baku's announcement of a unilateral ceasefire. People are reportedly being evacuated from the conflict zone.
The fighting is ongoing on the frontline in Nagorno-Karabakh, Armenia's Defence Ministry said, as cited by TASS.
Martakert region head, Vladik Khachataryan, said shelling is continuously ongoing from the eastern side. Several shells apparently fired by Azeri forces hit Martakert town center. In the last 24 hours, the town has reportedly been hit by 25 shells.
According to social media reports, residents are leaving the city, which is some three kilometers from the frontline.
Sputnik Armenia news outlet journalists came under fire when entering the city of Martakert, the media says. The journalists weren't injured.
The Armenian Defense Ministry said in a statement that heavy clashes are continuing in the northern and southern sections of the contact line, adding that Azerbaijan has "concentrated sizeable forces" in various parts of the frontline. However, the ministry stressed Armenian forces hold the upper hand.
The ministry also said that Armenia's forces launched a counter offensive and seized a height of tactical value near the village of Talish in the Martakert region of Nagorno-Karabakh, "which was occupied earlier by Azerbaijani troops."
Armenian Deputy Foreign Minister Shavarsh Kocharyan accused Turkey of tacitly supporting the continuation of hostilities between Armenia and Azerbaijan. Kocharyan said: "Turkey's racist stance only adds fire to the violence" in Nagorno-Karabach.
At the same time, Azerbaijan's Defense Ministry accused the Armenian side of intensive shelling of settlements along the contact line and ceasefire violations.
Azerbaijan also opened a criminal case after two civilians were killed and 10 more were wounded in Armenia's shelling of settlements near the contact line in Nagorno-Karabakh, the Azeri general prosecutor's office and the Interior ministry said in a statement.
On Friday night, hostilities sharply escalated in Nagorno-Karabakh, a breakaway Azeri region with a predominantly Armenian population that fought a war of independence in the 1990s. Azerbaijan and Armenia accused each other of provoking the escalation.
Dozens are thought to have been killed or injured in the latest violence, although the exact number of casualties remains unknown as it cannot be independently verified at the moment.
You can share this story on social media: