Azerbaijan says ready for unilateral ceasefire in disputed Nagorno-Karabakh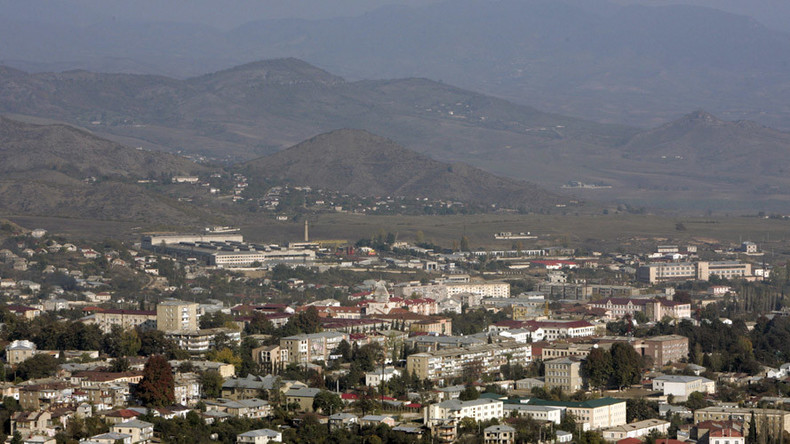 Azerbaijan has decided to unilaterally cease all hostilities in Karabakh, the country's Defense Ministry said. It added it would resume military action if attacked.
"Based on our love of peace and the calls of international organizations, Azerbaijan decided to unilaterally cease military response action," ministry spokesman Vagif Dyargahly said.
The Armenian military said the declaration of a ceasefire contradicts the facts on the ground.
"Azerbaijan's statement is an info trap. It does not mean the hostilities were ceased," Defense Ministry spokesperson Artsrun Ovannisyan wrote on Facebook.
The Azeri ministry reiterated its accusations that Armenia is to blame for the continued hostilities. It said that it would return fire, if their opponents try to take back territory captured by the Azeris during the Sunday offensive.
"The Armenian side tried to take back the territories liberated by Azerbaijan's military yesterday and lost 10 tanks and soldiers," ministry spokesman Vagif Dyargahly said.
Azerbaijan considers Nagorno-Karabakh military as Armenian and refers to them as such. Nagorno-Karabakh is self-governed, but has strong support from Armenia.
The condition may be something that Nagorno-Karabakh authorities would not agree to observe. On Sunday morning, their military recaptured a hill previously lost to Azerbaijan, according to the Armenian Defense Ministry. But Nagorno-Karabakh said it is 'ready to discuss' a truce with Baku.
Azeri President Ilkham Aliev said he regarded the results of the clashes "a major military victory," during a security council session on Saturday, television channel AzTV reported.
"It was not our fault. We responded to a provocation and did it right," he said. "If Armenian soldiers don't want to die, let them leave our land."
The violence in Nagorno-Karabakh, a breakaway Azeri region with a predominantly Armenian population that fought an independence war in the 1990s, escalated on Friday night.
Sporadic clashes along the engagement line reportedly continued on Sunday despite the effort of the OSCE Minsk group, which is tasked with preserving the truce in the conflict zone, to stop the violence.
Baku and Yerevan accused each other of provoking hostilities. It remains unclear which party triggered the latest round of escalation in Nagorno-Karabakh.
The exact number of casualties has also not been independently verified, as the numbers of enemy combatants killed or injured as claimed by each side are drastically higher than the corresponding number reported by the opposite party. Dozens are estimated to have been killed or injured.
You can share this story on social media: