Sanction NYT now, Russia suggests after Ukraine pres. accuses newspaper of 'hybrid war'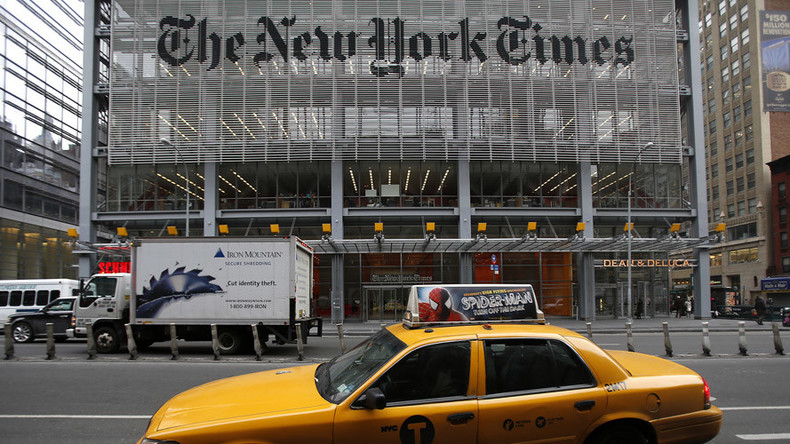 The Ukrainian president accused the New York Times of engaging in a 'hybrid war' against his country after it published a damning report on corruption. Russia suggested that Kiev should now ask Washington to impose sanctions against NYT editors.
The article, penned by the influential US newspaper's editorial board, blamed the Ukrainian authorities, including President Petro Poroshenko for failing to deal with corruption and called on Kiev's sponsors to withhold credits until the situation changes.
"Poroshenko seems to have accepted continuing corruption as the price to pay for a modicum of maneuvering room," the Times wrote. "But the president, the prime minister and the parliament must be made to understand that the International Monetary Fund and donor nations, including the United States, cannot continue to shovel money into a corrupt swamp unless the government starts shaping the democratic rule that Ukrainians demanded in their protests."
The opinion piece was published on Thursday just as Poroshenko was heading to the international nuclear security conference in Washington. He was asked to comment on the NYT criticism during a media conference – and practically accused the newspaper of being a propaganda vehicle for the Kremlin.
"I know this report. I'd like to give a concrete comment on it. Ukraine today is being targeted with a hybrid war. Including through mechanisms of dissemination of information, which discredits the Ukrainian nation," he said.
It was not clear whether Poroshenko realized that the report was published by a leading and respectable American news outlet. Ukrainian officials are apt to dismiss any criticism against them as part of 'hybrid war', which Kiev claims Moscow is waging against it.
In Russia the gaffe sparked sarcastic remarks.
"Kiev should now demand that the New York Times be put on some sanctions list. An American one preferably. Or is it already on one?" Russian Foreign Ministry spokesperson Maria Zakharova wrote on her Facebook page.
"Those hybrids! Now they infiltrated even NYT!"Aleksey Pushkov tweeted, the chair of the foreign affairs committee in the Russian parliament.
But in Ukraine some of Poroshenko's own men were not amused.
"Ignoring the opinion of one of the world's leading publications is unwise, to say the least," Mustafa Nayyem, a prominent Ukrainian journalist, an elected MP in Poroshenko's party, wrote on his Facebook page. "Such failures in communication are signs of detachment from reality, from which all previous presidents of Ukraine suffered."
You can share this story on social media: