Going nowhere: Israel bars over 100 Gaza athletes from running in Palestinian marathon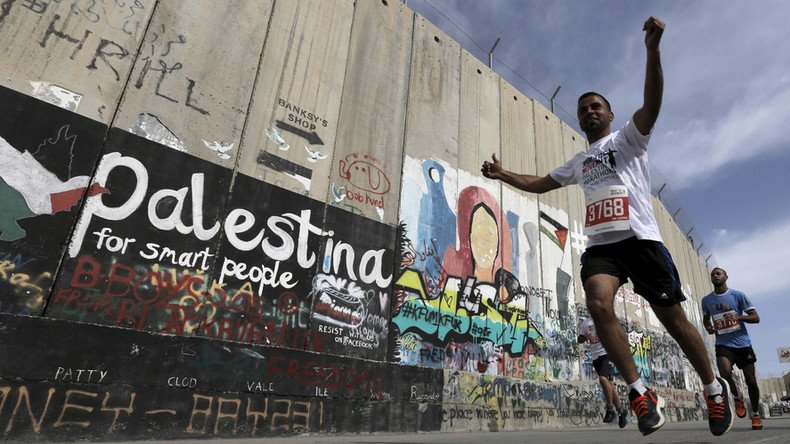 More than 100 Gaza athletes were unable to participate in the fourth annual Palestine Marathon in Bethlehem, after Israel refused to give them permits to exit the blockaded Gaza Strip. The organizer condemned the action as a "blatant violation" of international laws on freedom of movement.
Among the 103 athletes barred was star runner Nader Masri, who represented Palestine at the 2008 Olympics in Beijing. Joining him on the banned list were members of the campaign group Right to Movement and Right to Play – the organizing body behind the event, together with the Palestine Olympic Committee.
It is the third time such a situation has happened, according to Palestinian news agency WAFA. In the first and second marathons in 2013 and 2014, Israel refused to grant the athletes permission to join the sporting event. In 2015 it only allowed a very small number of Palestinians to participate.
The move by Israel was blasted by the marathon's organizer, I'tidal Abdul-Ghani, as "a blatant violation of all international laws and norms pertaining to athletes' freedom of movement."
The symbolic event is a 42km (26-mile) run organized every year in protest at the restrictions on movement imposed by Israel on Palestinians across the occupied territories. It kicks off at the Church of the Nativity in the old city area of Bethlehem and runs the length of the city, as well as past two refugee camps and along the Israeli-constructed wall.
Winners are given a medal fashioned out of a local-growing olive tree and a certificate.
Palestine President Mahmoud Abbas warned in an interview on Thursday that the Palestinian populace is increasingly losing hope that Israel will ever agree to a two-state solution or that any of its other grievances will ever be addressed.
READ MORE: '70 boys & girls with knives': Mahmoud Abbas addresses rising Palestinian-Israeli violence
Talks broke down two years ago, with the collapse bringing a new spate of Palestinian-on-Israeli violence. According to Abbas, security coordination between Palestine and Israel is the only factor preventing all-out violence from taking place, such as the knife attacks being carried out by Palestinians.
Then there is the blockade of the Gaza Strip itself, imposed in 2006, when Hamas came to power in Palestine. The rule restricts exit from and entry into Gaza.
You can share this story on social media: