7 killed, 27 injured as suicide bomb strikes police vehicle near bus stop in Diyarbakir
Published time: 31 Mar, 2016 14:32
Edited time: 31 Mar, 2016 18:27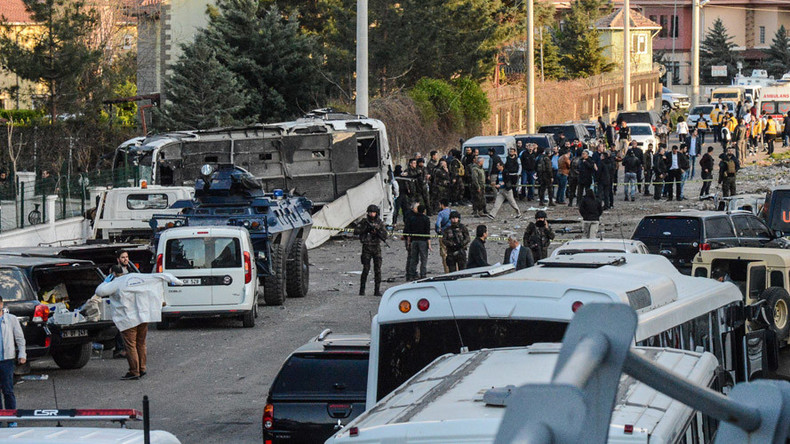 At least seven police officers have been killed and 27 people injured after a suicide car bomber hit a police bus in the mainly Kurdish-populated city of Diyarbakir, Turkey, according to Minister of Development Cevdet Yılmaz.
Thirteen police personnel and 14 civilians are among those injured, the minister said in a statement cited by local TV channels. The attack took place near a bus stop, which explains the high number of civilian casualties.
All people injured in the attack were hospitalized.
A parked car rigged with explosives was detonated by remote control as the armored police vehicle passed near the bus stop, Reuters reported citing security sources. The incident took place just a day before the Turkish Prime Minister Ahmet Davutoglu's visit to the biggest city in Turkey's largely Kurdish southeast.
The attacked police bus was on its way to the Turkish southern city of Sanliurfa, local media report.
No organization has claimed responsibility for the attack so far.
Turkish President Recep Tayyip Erdogan denounced the attack.

"This shows terrorism's ugly face again. The determination of our security forces will, God willing, put an end" to terrorism he said in his speech at the Brookings Institute in Washington as he is now in the United States for a nuclear security summit.
The blast comes as Turkey continues its crackdown on Kurds in the country's southeast. Ankara launched a military operation against Kurdish militants linked to the Kurdistan Workers' Party (PKK) in summer 2015. Since then, the violence that ended a two-year truce has already resulted in hundreds of civilian casualties according to human rights NGOs.