Tear gas, clashes, broken windows: Anti-labor reform protesters rally across France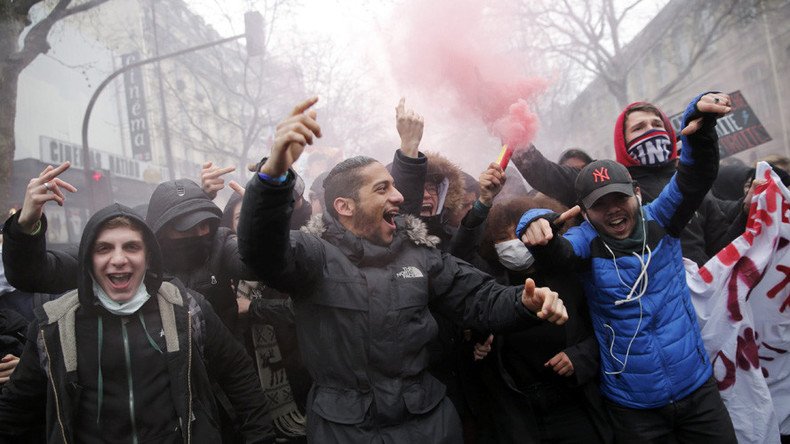 Police have used tear gas to disperse activists in Paris who are protesting new labor reforms. In the city of Nantes demonstrators tried to storm the town hall and smash windows.
Scores of people have taken to the streets across France to once again voice their anger against recently proposed labor reforms. The demonstrators have reportedly clashed with police officers.
Students are rallying against labor law reforms recently proposed by Labor Minister Myriam El Khomri. The French authorities are desperately trying to battle high unemployment in the country, and have suggested cutting overtime pay for work beyond 35 hours.
Employers would pay only 10 percent of overtime bonus, instead of the current 25 percent, according to proposed reforms.
The protests were partially organized by a Facebook community called 'Loi travail: non, merci' (Labor reform: No, thanks). Arguing that the reforms concern all French citizens, the group has started a petition, which has so far been signed by over one million people.
Earlier, French President Francois Hollande said the reforms would help employees "have more job stability."
"We must also give companies the opportunity to recruit more, to give job security to young people throughout their lives, and to provide flexibility for companies," he said.
In the city of Nantes protesters have smashed the windows of local shops and the city hall, photos on social media show.
In Paris the protest started in Place de la Nation, the same place where previous anti-labor rallies took place. The demonstrators threw bottles with flammable liquid and stones at police officers.
"Everyone hates the police," the protesters were shouting.
At least two protesters have been beaten by police officers in the city of Lille, according to photo reporter Julien Pitinome, who tweeted a picture of the incident.
The protesters in Lille also started a fire during the rally, local media said.
More than 260 protests are taking place in France, the Local reported.
The head of the General Confederation of Labor, Philippe Martinez, promised "an enormous number of people" would take to the streets on Thursday.
"All workers are directly affected by the labor reform bill," he said.
Several arrests have been made during the protests, BFMTV reported, citing police sources.
You can share this story on social media: