Hague tribunal acquits defiant Serb nationalist leader Seselj of crimes against humanity
Published time: 31 Mar, 2016 08:58
Edited time: 31 Mar, 2016 15:37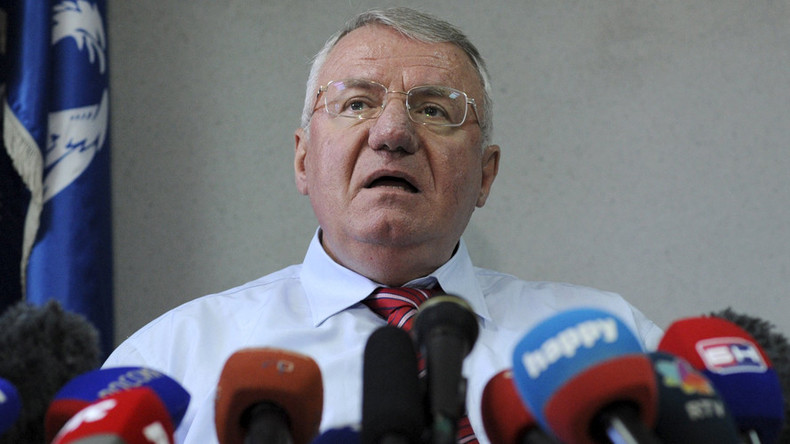 The Hague tribunal for the former Yugoslavia has found Serbian ex-Deputy Prime Minister Vojislav Seselj not guilty of being complicit in crimes against humanity in Croatia and Bosnia committed by Serbian militias between 1991 and 1993.
"With this acquittal on all nine counts of the indictment the arrest warrant issued by the appeals chamber is rendered moot," said Antonetti. "Vojislav Seselj is now a free man."
Seselj, who was leader of the nationalist Serbian Radical Party, stood accused of inciting and financing crimes against Croat, Muslim and other non-Serb populations committed by the Serbian militias from 1991 to 1993.
Justice Jean-Claude Antonetti said the militias did not directly take orders from Seselj, even though the SRP took part in recruitment. The not guilty verdict for all nine counts was passed unanimously.
The verdict was announced in absentia, as Seselj was reportedly medically unfit to travel to the Netherlands from a clinic in Serbia, where he is being treated for terminal cancer.
Despite his illness, the 61-year-old nationalist leader remains engaged in Serbian politics. Commenting on his acquittal in Belgrade, he said it was the only fair outcome.
"This time after so many trials of innocent Serbs, the judges ... from the legal aspect returned the only possible verdict," the nationalist politician told a news conference.
He added that he had filed a €12-million ($13.6 million) compensation claim against the UN tribunal and may now ask for an extra two million euros.
Seselj surrendered to the International Criminal Tribunal for the former Yugoslavia (ICTY) in February 2003 days after his indictment. He spent almost 12 years in custody before being released for medical reasons in November 2014.
The prosecution was asking for a 28-year prison term for Seselj. The man defended himself and pleaded not guilty, but said he expected to be handed down a 25-year term.
Croatian Prime Minister Tihomir Oreskovic said the ICTY verdict was "shameful."
"It is a defeat for the Hague tribunal and the prosecution," Oreskovic said during a visit to Vukovar in eastern Croatia, where he laid wreaths in memory of those who died in the 1991 battle of Vukovar.
Last week, the ICTY sentenced former Serb leader Radovan Karadzic to 40 years in prison after finding him guilty on 10 charges out of 11, including two counts of genocide and five counts of crimes against humanity.
The verdict sparked protests in Serbia and was criticized by Belgrade and Moscow, which said the tribunal was not a venue for justice but a biased instrument for settling scores.