17 killed as under-construction bridge collapses in Kolkata, India (VIDEOS, PHOTOS)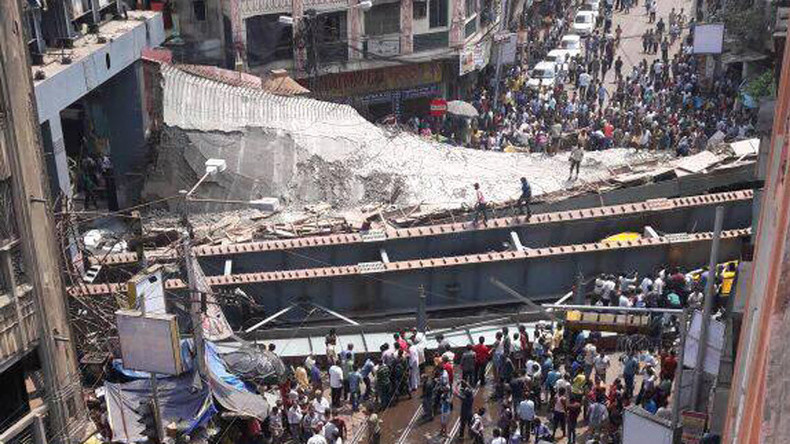 Seventeen people are reported killed and at least 78 injured, while 150 are believed trapped, after an under-construction flyover collapsed in a densely-populated area of Kolkata, India, causing chaos.
The incident took place near Girish Park in North Kolkata.
Eyewitnesses told the Indian Express they heard a loud blast and a crashing sound. They also said they saw a cloud of smoke rising from the scene.
Numerous photos on social media show people gathered near the scene of the incident trying to help those trapped or injured.
"The condition is pathetic. At this moment no one has any clue how many people are trapped," said Raichand Mohta, a police officer at the scene, told Reuters.
The Indian Express cited locals who said they opposed the construction, saying the overpass crosses too close to multi-story buildings nearby.
Paramedics are working to free people from a minibus that was crushed in the collapse, a local witness told Reuters.
The flyover collapsed on to the traffic moving along the street, police said.
"Cement and concrete were poured in yesterday only, it suddenly collapsed today," a local witness told India Today.
Those who happened to be near the scene were trying to pass bottles of water to people trapped in the rubble.
NDTV reported of a huge blaze at the scene, citing fire officials.
The Indian Army is heading to the disaster zone to assist.
Kolkata police have reportedly filed a notice against the IVRCL transportation company over the incident, Indian media said.