Russia's mine-clearing Uran-6 robots to help get rid of hidden explosives in Palmyra (VIDEOS)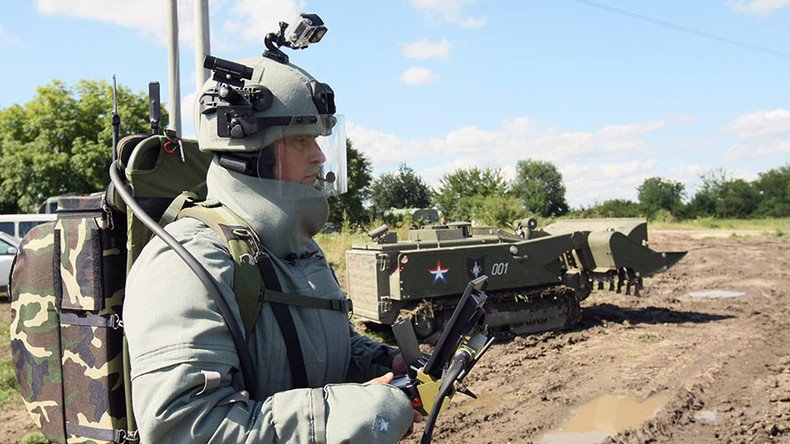 Russia's military multi-purpose de-mining robotic complex Uran-6 will be used to clear up hidden explosive devices left by Islamic State terrorists in Syria's Palmyra, after the historical site was recaptured from the militants.
Servicemen from the combined unit of an international anti-mine center of the Russian Armed Forces were trained in the Moscow region. They then headed to Russia's Khmeimim airbase in Syria, the Defense Ministry said on Wednesday.
READ MORE: Russia to send robots, engineers to Syria to help de-mine Palmyra
The field engineers unit is equipped with all the latest technology to help – and also protect them while defusing numerous bombs and booby traps, which Islamic State (IS, formerly ISIS/ISIL) left behind in the ancient city.
Around 100 Russian specialists will work with Uran-6 in Palmyra, TASS reported citing its source as saying, adding that the process of de-mining will last for several months. The specialists will not only work at the UNESCO World Heritage site, but also be involved in clearing up explosives in Palmyra's civilian neighborhoods, as well as in the areas surrounding the city.
The monster-looking Uran-6 which weighs up to six tons (12,000 pounds), is a remotely controlled complex, which has a number of cameras attached to it, providing an all-around vision to its operator. The robot can either carry out a controlled explosion of the detected devices, or just destroy the explosives on its way.
"I had a chance to see Uran-6 in action, clearing mines at a training range. These robotic machines can really make the work for a whole unit of engineers, and what is most important – potentially save their lives," deputy chairman of the Public Council of the Russian Defense Ministry, Aleksandr Kanshin told Interfax.
A unit with sniffer dogs trained to detect explosives have also been sent to Syria.
READ MORE: 'Pearl of the desert': RT visits liberated ancient ruins of Palmyra (DRONE FOOTAGE)
President Vladimir Putin has announced that he had a phone conversation with UNESCO head Irina Bokova, and the Syrian President Bashar Assad, resulting in an agreement that Russia will provide its assistance in de-mining Palmyra, its historical values, as well as surrounding areas.
Earlier this week, head of the Russian center for reconciliation of the warring parties in Syria, Sergey Kuralenko said that Russian military advisers have evaluated the current state of the old town sites in Palmyra. Many of the architectural structures have been largely destroyed, they reported, saying that IS militants left them fully mined during their retreat. The Syrian government asked Moscow to help de-mine the World Heritage site.
You can share this story on social media: