Slain lawyer for Russian fighter 'promised' to give up case in video released by Ukraine prosecutor
Published time: 29 Mar, 2016 22:25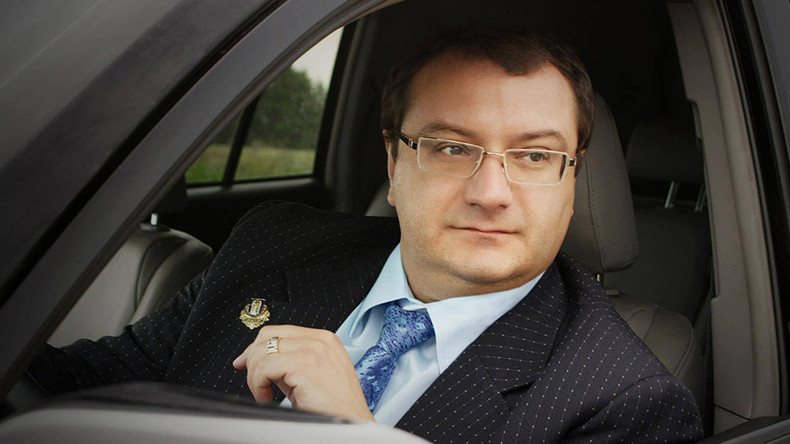 Kiev's military prosecutor has made public a video showing lawyer Yury Grabovsky "admitting his mistake" of defending a Russian citizen. The lawyer was killed in Ukraine this month, with Amnesty International calling his murder "a chilling blow to justice."
The video filmed with a mobile phone shows seemingly frazzled Grabovsky promising an unknown person to give up his case defending Russian Aleksandr Aleksandrov, who had been charged with involvement in terrorism activity in Ukraine.
"I promise and oblige to stop legal aid to the accused," Grabovsky says in the video. When the person behind the camera asks the lawyer why he has made such a decision, Grabovsky answers: "I find it impossible to further defend him in this case."
"Have you realized [your] mistake?" the person with a male voice then asks the lawyer, who answers positively. The video finishes with a "thank you" from the unknown interrogator.
Having presented the video at a briefing on Tuesday, Ukraine's military prosecutor Anatoly Matios said the investigators came in possession of it through access to iCloud, registered under the name of one of the killers. He added that there are several more videos, but refused to comment further.
"We can see that [Grabovsky] made this statement against his own will. It is obvious that any person can be forced into saying whatever [another] one likes," Aleksandrov's new lawyer, Valentin Rybin, told TASS news agency.
The prosecutor has previously said that the slain lawyer had been possibly kept drugged by his abductors prior to his murder.
After Grabovsky's body was discovered last week, three weeks after his disappearance in Kiev, human rights group Amnesty International called on Ukrainian authorities to "promptly, effectively and impartially" investigate the case.
"The hideous murder of lawyer Yuri Grabovski [sic], whose body was found in central Ukraine bearing gunshot wounds, is a chilling reminder of the dangers faced by lawyers and activists perceived to challenge the authorities," Amnesty International said.
"The Ukrainian authorities must immediately take all steps necessary to begin to rectify this ultimate abuse of human rights and justice," Senior Director for Research at Amnesty International, Anna Neistat added.
Amnesty also said that Grabovsky "faced repeated harassment and intimidation in connection with his work as a lawyer," and called on the authorities to "immediately provide" another lawyer, Oksana Sokolovskaya who worked alongside Grabovsky defending another accused Russian, Evgeny Erofeev, "with effective protection."
"All lawyers must be able to perform their professional duties without intimidation, hindrance, harassment or improper interference in their work," the human rights NGO said, adding that Sokolovskaya "has also complained of repeated instances of harassment and threats in connection with her work on the case."
EU is also following the investigation of the defense lawyer's murder, an unnamed EU representative in Brussels told Interfax news agency on Tuesday. "We hope that Ukrainian authorities will carry [the investigation] in accordance to high international standards," the agency cited its source as saying.
The two accused Russians were captured by Ukrainian forces in May 2015 in Lugansk region in eastern Ukraine. Kiev accused them of working for Russian Military Intelligence, while Moscow insists the detained Russians were former servicemen who voluntarily joined conflict in Ukraine's southeast. Before Grabovsky was killed, he reportedly came in possession of documents that showed that the two had indeed retired from the Russian army. Documents relating to this high-profile case have reportedly disappeared from Grabovsky's office.