First-hand look at ancient site of liberated Palmyra (VIDEO)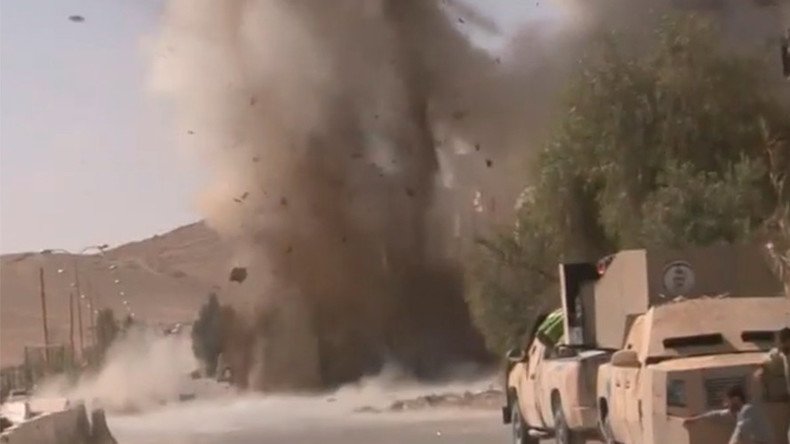 De-mining teams have begun examining the ancient city of Palmyra, recently liberated from Islamic State militants who planted dozens of explosive devices there. An RT Arabic correspondent traveled to the site to see the extent of the damage.
The UNESCO World Heritage Site Palmyra is currently so overwhelmed with bombs left by Islamic State (Is, formerly ISIS/ISIL) terrorists that an explosion could damage even armored vehicles, experts working at the site told RT Arabic's Abutaleb Albuhaya.
READ MORE: Russia to send robots, engineers to Syria to help demine Palmyra
RT crew managed to get to Palmyra's landmarks only after the road leading to the site was cleared of bombs.
"The Arch of Triumph has been destroyed. The temples and ancient tombs have turned into ruins. They were systematically destroying world heritage sites," military engineering unit commander told RT.
The iconic 2,000-year-old Bel Temple, or the "Pearl of Desert" also fell prey to barbaric acts of terrorism. A number of pillars inside the temple were blown up as well, RT correspondent mentioned.
The Syrian Army is making a great effort to make the city suitable for living again and to help local residents who spent more than ten months under Islamic State-imposed inhumane conditions to return to normal life, according to Albuhaya.
The Syrian Army engineer troops keep on carrying out de-mining activities despite unfavorable weather conditions. There is a heightened presence of bomb technicians in the eastern part of the city.
The tribal leader of Syrian Bedouins who also took part in battles to retake Palmyra addressed the population of the still occupied saying: "We'll capture the city if Deir Az Zor and will go further to liberate the road and the capital of the province."
The recapture of Palmyra, located in Homs province, is believed to have had a positive impact on the course of military actions in the region on the whole.
The Syrian Army supported by the Russian air force drew Islamic State militants out of Palmyra on Sunday. The city, taken over by militants in May 2015, has been left devastated and half ruined.
You can share this story on social media: