Occupy Athens: 200 leftist activists block Greek Finance Ministry protesting economic reforms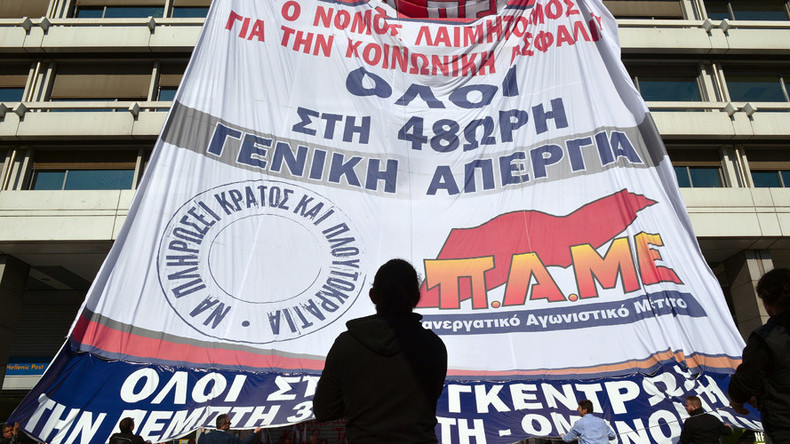 Around 200 protesters from a trade union blockaded the entrance to the Greek Finance Ministry in Athens early on Tuesday to protest against financial reforms. Members of the All-Workers Militant Front (PAME) burnt an EU flag outside the building.
The trade union members said it was a symbolic gesture, aimed at highlighting their opposition to reforms by the government to pensions and insurance. PAME have called on pensioners and workers to take part in the protests.
"At present, PAME has started the symbolic occupation of the Finance Ministry on Syntagma Square to protest against the new measures introduced against insurance, taxation and the selling of assets through auctions," a statement released by the trade union said.
The demonstrators fixed a banner on the facade and protesters set an EU flag on fire outside the building. PAME said all the measures being introduced by the government are against the workers.
"PAME calls on workers to take part in demonstrations in Thessaloniki today (Tuesday) and on Thursday in Athens to make sure that the bill is not passed by the government," the trade union statement added.
"They have the support of the whole population of Greece, not because the population are communists, but because everyone agrees, we Greeks need to leave the European Union," Dmitri Kitsikis, a professor of international relations at the University of Ottawa, told RT.
PAME have occupied the Finance Ministry before. In June, around 200 people invaded the building, with activists climbing on to the roof, where they unveiled a massive anti-government banner.
"We have bled enough, we have paid enough. Take matters in your own hands Greek people! Block the new measures and long-term bailout agreements," said the giant banner, depicting Greece's last three prime ministers George Papandreou, Antonis Samaras and Alexis Tsipras.