Ankara summons Berlin envoy for explanations over clip mocking Erdogan on German TV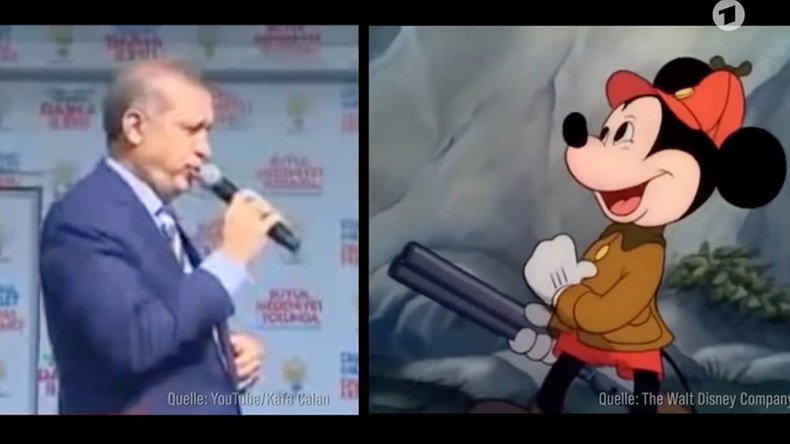 Outraged by a satirical clip making fun of the Turkish President and his recent policies that was broadcast on German television, the Foreign Ministry in Ankara has summoned the German Ambassador for official explanations.
Following the broadcast of the satirical piece titled "Erdowie, Erdowo, Erdogan" on NDR show titled "Extra 3" on March 17, German Ambassador Martin Erdmann was summoned up several days later to officially explain "in length" the reasons for the broadcaster's behavior, Der Speigel has learned.
The one minute and 52 second long satire package showing footage from recent history in Turkey criticized Erdogan's increased crackdown on the freedom of the press and hostile policies in the region, including Turkey's alleged support for Islamic State (IS, formerly ISIS/ISIL) fighters in neighboring Syria.
The video also focused on the lavish living of the Turkish president and his multibillion euro deals with the Europeans to keep migrants at bay. The broadcast on German television comes at a time when Germany, as part of EU is actively seeking closer ties with Turkey to help tackle the migrant crisis in Europe.
Erdogan's crackdown on journalists and restrictions on freedom of speech have been repeatedly criticized by the international community, along with Ankara's controversial anti-terrorists campaign against Kurdish militants which inflicted much suffering on Turkey's minority population.
The day the satirical piece was aired, RT launched a petition calling for a UNHRC-led investigation into claims of alleged mass killing of Kurdish civilians committed by the Turkish military during Ankara's crackdown on Kurds in the country's southeast.
You can share this story on social media: