Kim Jong-un orders artillery drill 'targeting' S Korean leader, says will turn Seoul into 'ashes'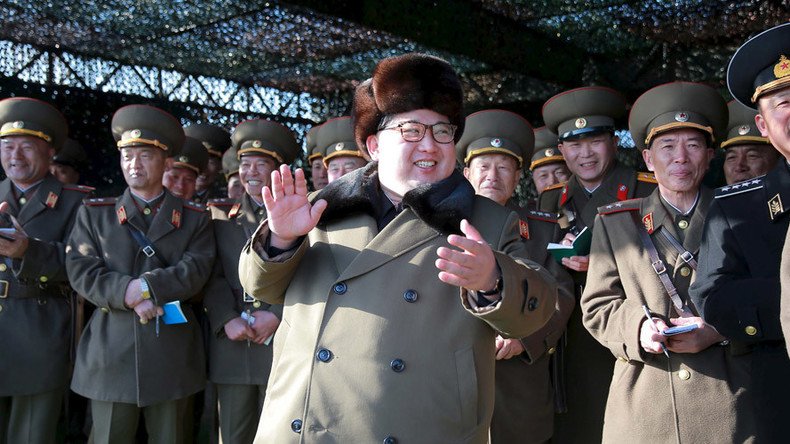 North Korea leader Kim Jong-un has ordered and observed artillery drills simulating an attack on the residence of the South Korean president, local media reported, adding that Kim promised to turn Seoul "into rubble and ashes" in case his enemies want to challenge Pyongyang.
"Artillery shells flew like lightning and intensely and fiercely struck targets simulating Cheong Wa Dae [Korean name for residence of South's president, also known as the Blue House] and rebel governing bodies in Seoul," the North Korea's KCNA news agency said, as cited by AFP.
The military exercise reportedly involved "hundreds of different types" of long-range artillery, the agency added.
"If the enemies challenge us ... our artillery forces' merciless retaliating blow will turn Seoul into rubble and ashes," Kim said.
According to KCNA, the exercise was a direct response to the drills conducted by "the gangster US and [South Korean president] Park Geun-Hye forces."
US and South Korean annual Key Resolve and Foal Eagle military drills started March 7 and are to last until April.
The North repeatedly said that it views drills as provocations. Pyongyang vowed a "preemptive and offensive nuclear strike" against the "undisguised nuclear war drills aimed to infringe upon the sovereignty" of North Korea.
READ MORE: N. Korea claims solid-fuel missile test, greatly increasing range
Tensions are running high in the Korean peninsula following Pyongyang's nuclear test on January 6 and February's satellite rocket launch. As a consequence the UN Security Council slapped toughest sanctions on the North.
However, experts still doubt that Pyongyang did test an H-bomb and later agreed the device was an atomic bomb similar to those in three previous tests.
On Thursday, Pyongyang said it tested a solid-fuel missile engine. This test was reportedly personally monitored by Kim, who said that North would "strike great horror and terror into the hearts of our enemies."
In March North Korea repeatedly launched short-range projectiles in the direction of the Sea of Japan, according to reports from South Korea's Yonhap news agency.
Kim also vowed to carry out further nuclear tests involving a nuclear warhead and ballistic missiles in defiance of UN sanctions.
Despite strong international condemnation, North Korea continues to aggravate tensions on the peninsula, threatening to make "preemptive attacks" against Seoul and Washington. In January, the North Korea regime hit the headlines when it said that it was ready to detonate its H-bomb capable of wiping out the whole of the US "all at once."
Both Russia and China criticized North Korea for its recent actions, saying that Kim should listen to the UN Security Council's demands to return to the negotiation table.
"We expect North Korea to make reasonable conclusions and listen to the demands of the United Nations Security Council, and return, after all, to the negotiation table within the framework of the joint declaration of the six-party participants made on September 19, 2005," Russian Foreign Minister Sergey Lavrov said on March 11.
However, Moscow and Beijing agreed that US shouldn't use tensions on Korean peninsula to deploy a missile shield in the region.
"We stand firmly against the deployment of the [American] THAAD missile defense system to South Korea under the pretext of the nuclear problem of the Korean Peninsula," Chinese Foreign Minister Wang Yi said. "We believe this to be directly damaging to Russian and Chinese strategic [national] security."
You can share this story on social media: