German nuclear plants are vulnerable to terrorist attacks – study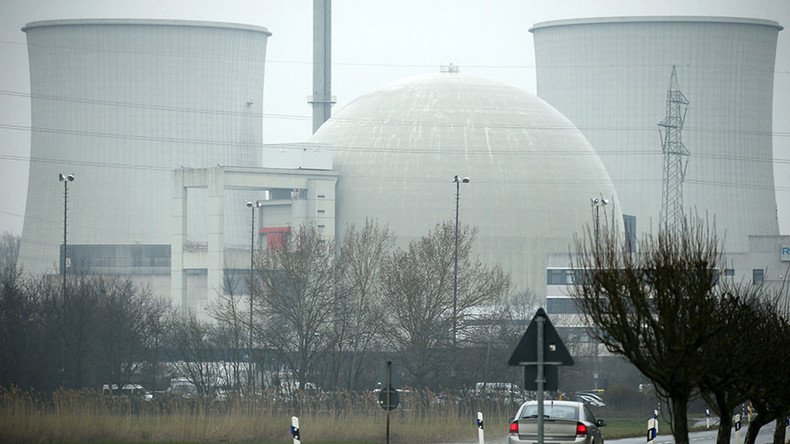 Germany's nuclear power plants are insufficiently protected against potential terror attacks, including 9/11-style ones, according to a newly-released study.
A nuclear plant's smokescreen designed to prevent any attacks on it from air provides only minimal protection for the facility, Deutsche Presse-Agentur (DPA) news agency reported, citing findings presented by Oda Becker, a physicist and independent expert on nuclear plants, at the German Federation for the Environment and Nature Conservation (BUND) congress in Berlin on Thursday.
Such smokescreen "only slightly diminishes a chance of collision with a plane," hijacked by terrorists. Additionally, only two out of eight currently operating nuclear plants in Germany are equipped with such systems, the report points out.
According to Becker's research, another significant threat to German nuclear plants is posed by a possible terrorist attack using helicopters filled with explosives. A fall of an aircraft rigged with explosives on a nuclear plant could lead to a "massive release of radiation," as nuclear facilities in Germany are not designed to withstand explosions of such scale.
Reliability tests have demonstrated that the plants' personnel cannot possibly prevent terrorists from infiltrating the facility and committing a terrorist act there, the study adds.
In another study published March 8 and titled "Nuclear power 2016 – secure, clean, everything under control?" Becker listed insufficient security standards, natural disasters, terrorist attacks and emergencies caused by the deterioration of the German nuclear plants' security systems as major threats to the industry.
"A serious accident is possible in case of every German nuclear plant," she said at that time, adding that "there are no appropriate accident management plans." Becker added that temporary nuclear waste storage sites can also pose a serious threat to people, as they can also be targeted by terrorists and lack relevant security systems.
"The interim [nuclear waste] storages lack protection against aircraft crashes and dangers posed by terrorists," Becker said, adding that security aspects of the future nuclear waste storage should be discussed, including possible security upgrades of the existing storage sites and the establishment of new facilities.
According to Belgian media, Brussels suicide bombers Khalid and Ibrahim El-Bakraoui were already planning attacks on nuclear plants, although not in Germany but in Belgium. The arrest of Paris attacker Salah Abdeslam allegedly thwarted their plans and forced them to choose another target.
The Bakraoui brothers planted a hidden camera in front of the home of the director of the Belgian nuclear research program and managed to record dozens of hours of his movements, according to the Belgian newspaper Dernier Heure. The footage was subsequently seized by police in the apartment of another suspect from the same terrorist cell, Mohammed Bakkali.
Following the deadly Brussels attacks on Tuesday, which claimed 31 lives and left about 300 people injured, Belgium's two nuclear power stations were swiftly evacuated.
In February, there had already been reports that the terror cell behind the November attacks in Paris also spied on the movements of the head of Belgium's atomic program, provoking fears that they might target a nuclear plant.
The recent news from Belgium has given some German politicians and activists additional cause for concern. Hubert Weiger, the head of the BUND, said that the Brussels attacks became another reason for immediate nuclear phase-out. "It is even more necessary than ever to abandon this technology," he said, as quoted by DPA.
Eight nuclear plants remain operational in Germany, after Angela Merkel's government decided to abandon the use of nuclear energy and immediately halt all operations on the country's eight oldest nuclear plants in March 2011. Another plant was shut down in 2015. The remaining nuclear stations are due to be closed by 2022.
At the same time, Simone Peter, a co-chair of the German Green Party, demanded additional security checks at all European nuclear plants.
"EU nuclear power plant stress tests did not include [the possibility] of a terrorist attack. It is time to reassess [our] approach to security," she tweeted.
Islamic State (IS, former ISIS/ISIL) is allegedly training from 400 to 600 fighters specifically for external attacks that could take place in Europe, AP reported, citing EU and Iraqi intelligence officers, as well as a French lawmaker.
According to AP, the terrorist group has established interconnected cells all across Europe and provided them with more autonomy in choice of targets. The number of such cells could amount to more than 100, The Mirror reported citing an American intelligence official, who also said that about 450 bomb makers and other experts could have already received orders to carry out attacks at will.
You can share this story on social media: