Frankenplanes: Croatian MiG-21 jets bought from Ukraine are made of old parts, unable to fly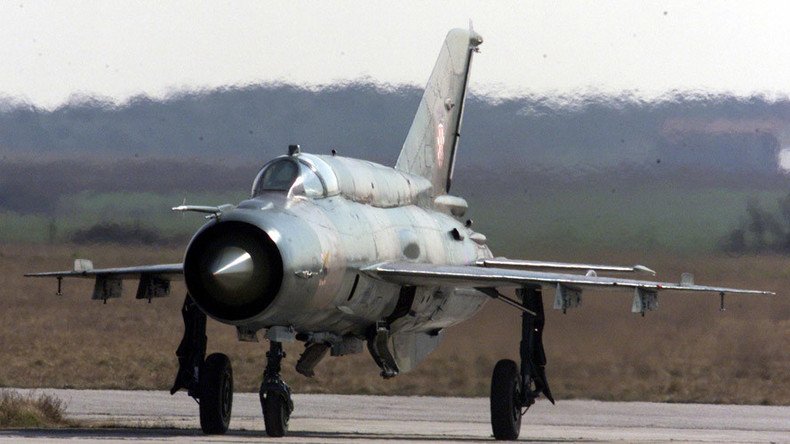 A scandal is unfolding in Croatia after it was revealed it had bought Soviet-era MiG-21 jets – now unable to fly – that were assembled from dubious parts by Ukraine. The Croatian defense minister has threatened to shoot himself if any wrongdoing in the deal is proved.
Croatian security services and the Defense Ministry have launched an investigation into a 2013 military deal with a Ukrainian company, which is said to have undermined the air force's combat capabilities.
Under the contract, Croatia paid over $21 million to repair and modernize seven Soviet-era MiG-21 fighter jets at Ukrainian plants, and to purchase another five aircraft of the same type there.
But those five MiG-21s were never sold by the Ukrainians "as such," Jutarnji List newspaper has revealed. In fact, the aircraft were reportedly assembled from dubious obsolete parts coming from all over the world.
According to the newspaper's sources, there were serious indications that their fuselages came from Bulgaria and their wings from Algeria, while fuel tanks were reportedly of Soviet origin.
Bulgaria previously reported to NATO that it had destroyed its MiG-21s, which raises questions how the Bulgarian parts made their way to Ukraine. The "Algerian" wings had markings in French and also some Cyrillic letters that allowed their origin to be tracked.
Even worse, when Croatian officials came to inspect the five MiGs they wanted to purchase, the Ukrainians substituted the "Lego-like" fighters for jets owned by Yemen, according to the local media.
The overhaul of the seven Croatian jets in Odessa also seemed suspicious from the outset. Under the contract, the air force's test pilot – Brigadier General Ivan Selak – had to perform flight tests of the "repaired" jets before final handover. But the Ukrainians never allowed him to fly, using "bad weather" or "risk of flying over populated areas" as an excuse. Finally, when the jets were about to fly back to Croatia following the "overhaul," the Ukrainians cited a "war situation" and instead returned them by truck in a disassembled form.
The military sources told local media they now know for sure that the fighters were simply unable to reach Croatia by air.
Back in Croatia, one of the "repaired" MiGs suffered engine failure while flying at an altitude of 13km, while another jet's radar reportedly did not work at all. It was further revealed that all the jets still had Soviet-type communication equipment barely compatible with NATO standards. The aircraft also lacked Western-type Identification, Friend or Foe (IFF) equipment required by the Croatian Air Force to conduct NATO missions.
All the MiGs that arrived from Ukraine have been destroyed as the air force does not know where they actually came from, a source close to the investigation told Jutarnji List, without elaborating. As a result, the country has essentially lost a key part of its air force, the newspaper notes.
The Ukrainian deal triggered a scandal inside Croatia's military elite. Defense Minister Ante Kotromanovic, who was in charge when the agreement was signed in 2013, insists the bidding process was transparent and denies any allegations of wrongdoing: "I'm accused of favoring [the Ukrainian bid]. I'll shoot myself if anyone can prove that I did so."
You can share this story on social media: