What we know so far about the Brussels attacks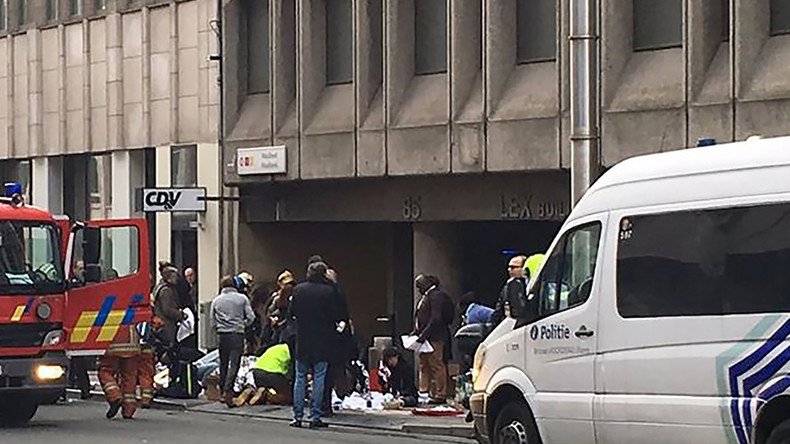 As Belgium raises its terror threat to the highest "fourth" level, and the country's prime minister confirms the attacks as acts of terrorism, RT sums up what we know so far about today's explosions in Brussels.
Brussels attacks: Airport, metro bombings aftermath

Brussels airport and metro bombings: 1st time ever highest level terror alert in Belgium. At least 34 dead, many more injured. Security tightened across EU, Brussels on lockdown.READ MORE: http://on.rt.com/77nz

Posted by RT Play on Tuesday, March 22, 2016
1. Three explosions took place in Brussels. Two blasts went off in the departure hall of Brussels' Zaventem Airport at around 8am local time, with at least one of them being a suicide bombing, according to Belgium's federal prosecutor. One bomb exploded at the Maalbeek Metro station, which is close to the European Union headquarters.
2. The number of casualties is changing, with current reports putting it at 34 people killed - 20 in the Metro, 14 at the airport. Over 100 people were injured in the Metro blast alone, 17 of them "severely," according to Brussels mayor Yvan Mayeur. Over 90 were reportedly wounded at the airport.
3. Belgian Prime Minister Charles Michel has confirmed that the blasts were terrorist attacks. Islamic State (IS, formerly ISIS/ISIL) has reportedly claimed responsibility for the attacks in Brussels. According to Egyptian media, a statement from the terrorist group was published by IS-linked Amaq News Agency.
The blasts come just days after Salah Abdeslam, the key surviving suspect in the attacks on Paris in November of last year, was arrested in the Belgian capital.
4. Brussels is on lockdown, the airport is closed, flights have been canceled, and incoming flights diverted. Trains to and from the airport have been halted. Public transport has been suspended. Security has been tightened at other airports across Europe.
5. Countrywide, the terror threat has been raised to the highest "fourth" level, while EU institutions have been put on an "Orange" level alert. The government is sending 225 extra troops to Brussels following the explosions.
6. A number of other blasts have been heard in the Belgian capital, and are reported as being controlled explosions performed by security services. Several suspicious packages have been discovered around the city, including suspicious objects at the airport, and have been neutralized by bomb technicians.
You can share this story on social media: