New CCTV footage offers insight into Flydubai FZ981 crash (VIDEO)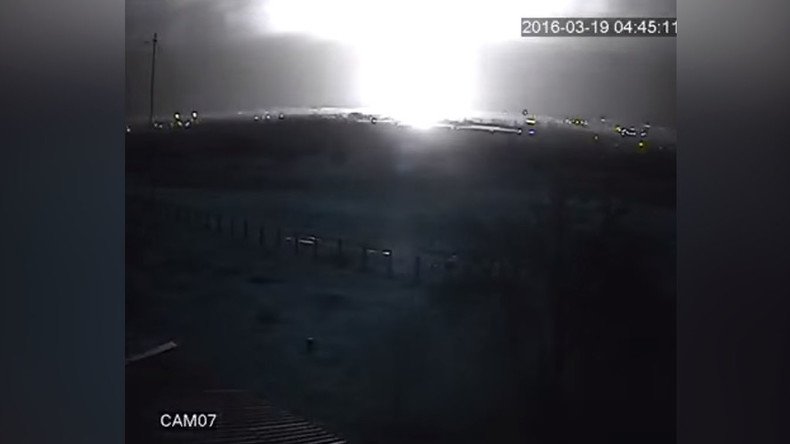 Two previously unpublished CCTV videos allegedly showing the Flydubai FZ981 crash in the southern Russian city of Rostov-on-Don that killed all 62 people on board have been posted on YouTube. Both show the Boeing-738 inexplicably dropping out of the sky.
The black-and-white videos taken during the night of the crash show the catastrophe from a new angle and distance. The first one shows the plane literally falling from the skies almost vertically, with a massive fireball upon impact.
The second clip posted by local DONDAY channel shows what looks like a plane trying to land. All of a sudden the aircraft goes up and disappears in the clouds. Moments later the bright spot is seen going down fast and an explosion follows.
On March 19, Flydubai's Boeing 737-800 jet flight FZ981 was en route from Dubai to Russia's Rostov-on-Don. The aircraft crashed early in the morning during its second landing approach amid poor weather conditions. The plane disintegrated, killing all 55 passengers and 7 crew members onboard.
READ MORE: Pilots 'worked to death': Flydubai whistleblower says fatigue-related crash predicted (RT EXCLUSIVE)
RT encourages people who can shed light on the situation to write to flydubaigate@rttv.ru and tell us their stories.
You can share this story on social media: