Huge golden dome rises over Paris skyline to crown Russian cathedral (VIDEO)
A 12 meter (39 foot) high golden dome has been hoisted atop a new Russian Orthodox cathedral in France, a stone's throw from the Eiffel Tower. The huge dome is the first of five to top the church slated for completion later in the year.
The dome that weighs as much as nine tons (18,000 pounds) now sits at a height of 37 meters (121 feet), atop the under-construction Saint Trinity church on Branly Embankment. After an Orthodox priest blessed it with holy water, the dome was lifted and placed atop the cathedral with the help of a crane, followed by a huge Orthodox cross on Saturday.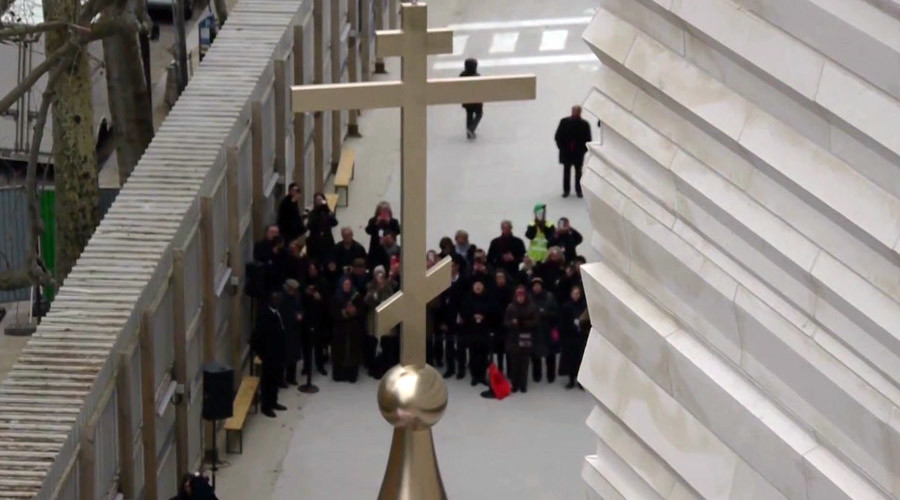 The religious complex, which will also house Russian Spiritual and Cultural Center in the French capital, "is a powerful confirmation of the unique and historic relations between both countries," the secretary of estate in charge of relations with parliament, Jean-Marie Le Guen said, adding that it will be inaugurated by Russian President Vladimir Putin later this year.
The structure is being built on the site of the former headquarters of France's weather forecasting service, which occupied an area of 8,400 square meters (two acres), the size of a concert hall. According to Le Figaro, France sold the site in the prestigious seventh arrondissement, to Russia for €70 million ($79 mn).
The cathedral will have five domes in total, covered with golden leaves. The compound will also include an administration building for the eparchy, a Russian-French school for 150 students, lecture halls, a dormitory and a library.
You can share this story on social media: