Key suspect in Paris attacks Abdeslam said he planned suicide attack, but 'backed down'
Published time: 19 Mar, 2016 17:23
Edited time: 20 Mar, 2016 09:22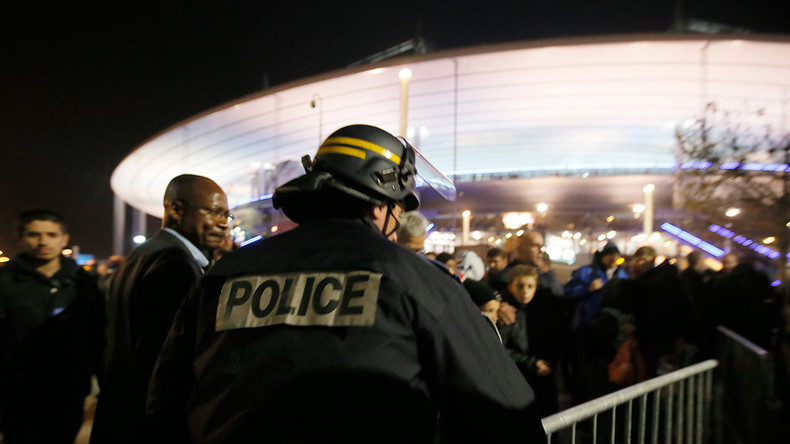 Salah Abdeslam, a prime surviving suspect in the November massacre in Paris, told investigators he initially planned to blow himself up in the assault. Earlier in the day, Abdeslam's lawyer said the suspect had been cooperating with authorities in Belgium.
"Salah Abdeslam today during questioning by investigators affirmed that, and I quote, 'he wanted to blow himself up at the Stade de France and that he had backed down'," Paris prosecutor Francois Molins told reporters on Saturday, but added that the suspect's initial statements should be treated with caution, Reuters reported.
Abdeslam played a "central role" in organizing the attacks, having transported others linked to it and also bought materials used to make the explosives, the prosecutor said.
In the massacre orchestrated by Islamic State (IS, formerly ISIS/ISIL), the Belgian-born French national is believed to have driven a rental car discovered near the Bataclan concert hall – the scene of a horrific hostage siege. While his brother Brahim was one of the suicide bombers in the attacks, Salah Abdeslam is thought to have been wearing an explosives belt too. It was later found dumped in a bin in a suburb south of Paris.
Earlier on Saturday, Abdeslam who had been detained in Brussels on Friday, was formally charged with terrorist murder.
"He is cooperating with Belgian justice," the suspect's lawyer, Sven Mary told the media in Brussels on Saturday.
Abdeslam's lawyer confirmed France is asking for his defendant's extradition, but said, "we will refuse the extradition."
The Belgian minister of foreign affairs, Didier Reynders, said Salah Abdeslam had confessed he was planning a new terror attack, and that security forces had found many weapons during his capture.
With the suspect opposing extradition, it could take three months at worst for him to be handed over to France by Belgium's authorities, Molins said.
Since November 13 last year, when 130 people were killed in a series of shootings and suicide attacks in the French capital, Salah Abdeslam has been Europe's most wanted man. He was captured in the Belgian capital on Friday. During the police assault, Abdeslam was shot in the leg, but appeared to have sustained only a slight injury and was released from a local hospital early on Saturday.
Formally charged with involvement in terrorist murder, Abdeslam is being questioned by police in Belgium. French authorities have launched a fast-track appeal to have him extradited, following a request from French President Francois Hollande.
"I am sure the French legal authorities will very quickly issue an extradition request... and the Belgian authorities will respond as favorably as possible, as quickly as possible," Hollande said on Saturday, after an emergency defense council meeting of ministers at the Elysee Palace had been called.
During the Friday raid in Brussels that led to Abdeslam's capture, several others were detained. Monir Ahmed Alaaj alias Amine Choukri (with both names appearing on fake documents, according to investigators) was also charged with terrorist murder involvement, while a third man named Abid A., was charged with being a member of a terrorist organization and aiding and abetting criminals, Reuters reported citing Belgian prosecutors.
Two women also detained during the operation have been released, authorities added, saying that one of them was charged with aiding and abetting, while the second woman was released without charge.
"This operation has removed the threat of several individuals who have proven themselves extremely dangerous and totally determined," French Interior Minister Bernard Cazeneuve said after the Elysee emergency meeting, adding that the arrest was "an important blow" against IS in Europe.
Salah Abdeslam's arrest could encourage his accomplices to flee Europe, Interpol warned on Saturday, saying it has issued an advisory to member states to heighten control at the borders.
"Anyone linked to Abdeslam will be concerned that their location could be revealed and attempt to run to try and avoid detection," Interpol Secretary General Jurgen Stock said, as quoted by Reuters. "It is now vital that countries continue to cooperate and make thorough checks against the information available to them to avoid suspects slipping through the net," he added.
The raid leading to the arrest of the 26-year-old key suspect in the Paris attacks came shortly after Belgian authorities said his fingerprints had been detected in an apartment raided earlier in a Brussels neighborhood. In that raid, Abdeslam's suspected accomplice was killed, while another two men escaped, one of whom later appeared to have been Abdeslam.
The man could be "a huge treasure-trove of amazing information that could stop future attacks," former MI5 intelligence officer Annie Machon told RT, but added that the enormous amount of data gathered by intelligence agencies might have interfered with an earlier arrest.
"Either Abdeslam has been completely off-grid, not using any form of communications whatsoever, which is why he has been able to remain under the radar of a very intensive dragnet surveillance these days, or they have been missing him in the avalanche of information that is coming through this global surveillance network," the former MI5 agent said.
Following the attacks, a state of emergency was introduced in the French capital. In February, it was extended by parliament to May 26. The measure, criticized by a number of rights groups, expands police powers, allowing the authorities to carry out searches and to restrict the movement of people and vehicles at specific times and locations.