5 dramatic videos from Turkey's operation against Kurds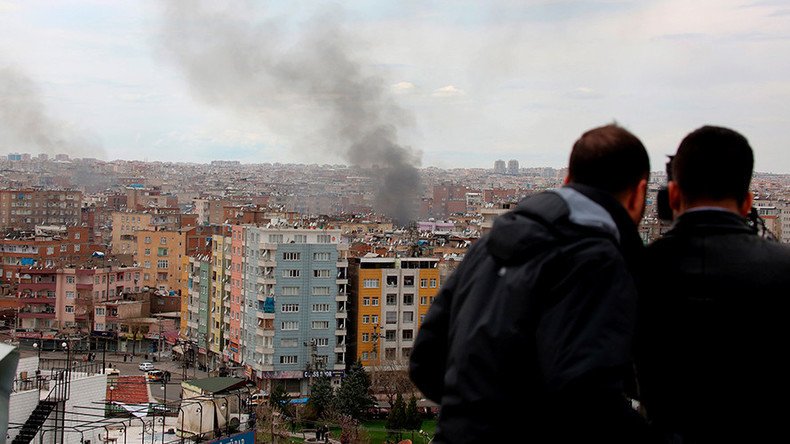 As the battle between Turkey and Kurdish rebels continues, RT has gathered five videos showing the intensity of Ankara's operation and the destruction it has left behind.
1. 'Burned to death & beheaded in basements'
RT was the first media organization to be given access to the Turkish town of Cizre, where local Kurds said the Turkish military burned alive more than 100 people trapped in basements. Video footage shows ruin, rubble, and "absolutely decimated" buildings amid a "nightmarish" scene.
2. Troops fire at civilians waving white flags (WARNING: GRAPHIC IMAGES)
In January, Turkish troops reportedly opened fire on several civilians waving white flags in the town of Cizre as they tried to cross a street. The dramatic footage shows people being shot, with stream of blood flowing on ground. The victims were reported to have been Kurds.
3. Violent clashes between protesters & police
Clashes between protesters and police in Diyarbakir ended in two reported fatalities among demonstrators in December 2015, according to security officials. The protesters were lashing out against an imposed curfew in the Sur district.
4. Warzone inferno in Diyarbakir
Footage released in March 2016 shows continuing clashes between Turkish security forces and militiamen of the Kurdish Workers' Party (PKK) in the Sur district of the province of Diyarbakir. The scale of devastation resembles a warzone in Syria or Iraq.

5. Burnt-out cars & shelled buildings
Clashes between Turkish security forces and members of the Kurdistan Workers' Party (PKK) in August 2015 left Silvan, Diyarbakir, littered with burnt-out cars and destroyed buildings.


You can share this story on social media: