'Terrorist propaganda': Turkey deports British scholar over Kurdish New Year invitations
Published time: 17 Mar, 2016 12:36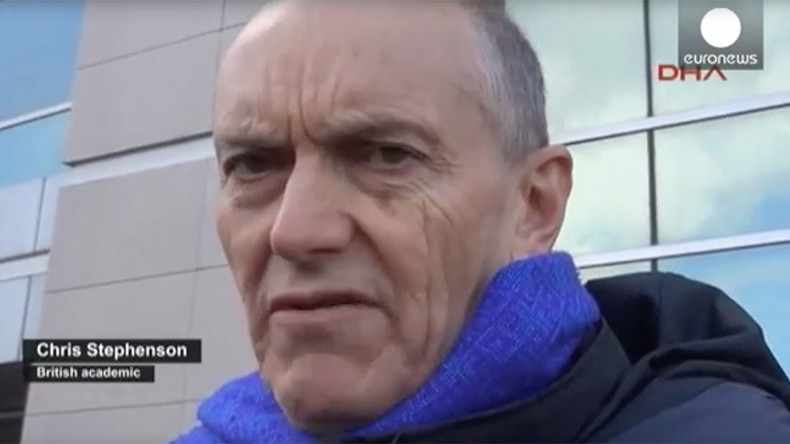 A British scholar has been deported from Turkey after 25 years of residency, with the government accusing him of spreading "terrorist propaganda" by handing out Kurdish leaflets. It comes as Ankara continues to battle the Kurdistan Workers Party (PKK).
Chris Stephenson told AP before boarding his flight on Thursday that there had been "no offense, no trial, just an administrative decision to deport me after 25 years of residency in Turkey."
He also tweeted: "I am being deported at the airport. Tomorrow an application will be submitted to the administrative court for my return."
Havaalanında sınır dışı ediliyorum. Yarın idari mahkemesine dönüşüm için başvurum yapılacak.

— Chris Stephenson (@chrisjstephensn) March 16, 2016
Stephenson, a lecturer at Istanbul's Bilgi University, was arrested outside a courthouse in Istanbul on Tuesday, where he had arrived in support of three Turkish academics arrested the day before for allegedly creating terrorist propaganda.
READ MORE: British scholar arrested in Istanbul over 'terrorist propaganda' in Kurdish holiday invitations
The academic said that security guards at the courthouse found him in possession of invitations for Nawroz (Kurdish New Year) celebrations.
The lecturer was then also charged with making terrorist propaganda – a claim which he denies. According to Stephenson, he neither made nor distributed the leaflets; they were merely inside his bag.
"In no way was I supporting terrorism. I was supporting a peaceful solution," Stephenson said, adding that he was "gutted." The academic is married to a Turkish national and they have a 13-year-old daughter.
He said the invitations were issued by the pro-Kurdish People's Democratic party, and admitted that they included a reference to Kurdish self-determination and a small picture of a barricade.
His deportation comes just three days after Turkish President Recep Tayyip Erdogan said that Ankara would "redefine" terrorism and terrorists so that legal action could be taken against anyone seen to be supporting terrorism – including academics and journalists.
Stephenson was one of more than 1,000 academics who recently signed a petition criticizing military action in the southeast.
The arrest and deportation come as Turkey continues to battle the PKK – which it considers a terrorist organization – in the southeast, as well as in northern Iraq and Syria. Fighting has been taking place since July 2015, when Ankara broke a two-year ceasefire.