Tear gas, firecrackers & arrests: Anti-labor reform rallies held in Paris (VIDEO, PHOTOS)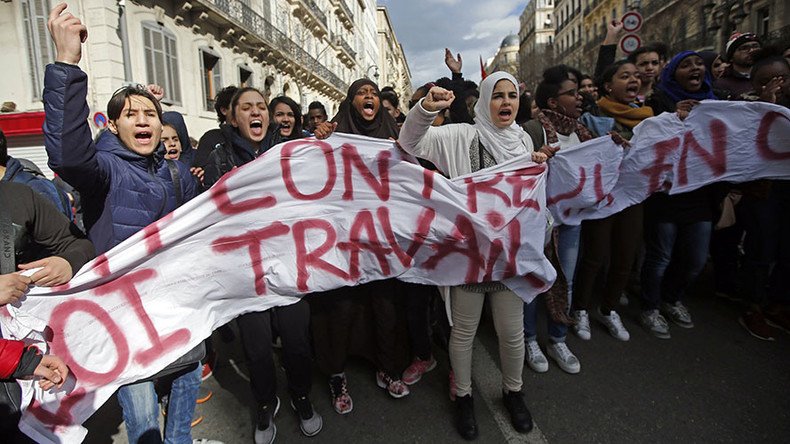 Police have deployed tears gas and made at least three arrests as scores of students took to the streets of Paris to protest unpopular labor reforms recently proposed by the French government.
Two officers were "lightly" injured in the scuffles with demonstrators, police said, as cited by Le Figaro.
The group of protesters gathered at Place de la République and headed towards Place d'Italie, Le Parisien reported.
Le Figaro reported that firecrackers and smoke bombs were seen the Place de la Nation in eastern Paris, where the protesters gathered.
"Youth, who suffer most, shouldn't be in the street", "Youth are rallying", the protesters were reported as saying, while others were shouting "Resistance".
The students are singing La Marseillaise, the national anthem of France, originally a revolutionary song.
Local journalist at the scene reported that firecrackers have again been thrown at police by protesters.
The students are rallying against labor law reforms proposed by Labor Minister Myriam El Khomri earlier in March. The French government is desperately trying to battle high unemployment and has suggested cutting overtime pay for work beyond 35 hours.
The purpose of the protest is to "fight a government that despises the youth," a 17-year-old protester told Le Figaro.
Also according to the proposed reforms, employers would pay only 10 percent of overtime bonus, instead of the current 25 percent.
The protests were partially organized by a Facebook community called 'Loi travail : non, merci' (Labor reform: No, thanks). Arguing that the reforms concern all French citizens, the group has started a petition which has so far been signed by over 1 million people.
"We can't adapt all the time to the employer's needs" Clement, a student protester against the reform, told L'obs newspaper.
Protests against new labor reforms have swept the whole of France. Photos of the demonstrations have been posted on social media from Clermont Ferrand, Marseilles, Tours, Chalons and Poitiers.
In the city of Rennes, northwestern France, police deployed tear gas against demonstrators, French media reported. The activists staged rally at the local train station, disrupting traffic. The demonstrators occupied tracks and platforms.
You can share this story on social media: