'Illegal, immoral & inhumane': Thousands protest in Spain against EU-Turkey refugee deal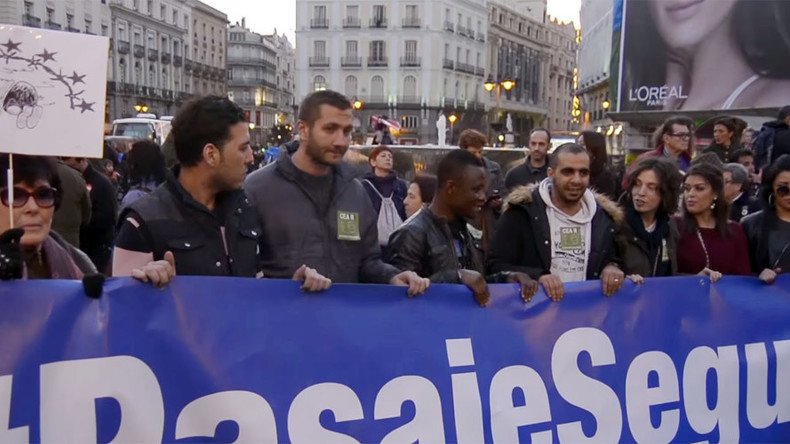 Thousands of people have demonstrated in more than 50 cities across Spain in protest against the draft agreement between Brussels and Ankara which could see the bulk of "illegal" immigrants stuck in EU sent back to Turkey in exchange for "genuine" asylum seekers.
"Refugees welcome" and "This agreement is illegal," were some of the most popular slogans chanted at the rally in central Madrid's Puerta del Sol square, where some 5,000 attendees gathered to protest against Ankara-Brussels agreement, according to organizers.
Leaders of the European Union are to hold talks in Brussels on Thursday with Turkey's Prime Minister, Ahmet Davutoglu, to try to hammer out a deal to curb the bloc's worst migrant crisis in more than 60 years.
The most controversial part of the deal entails sending thousands of migrants stuck in Greece back to Turkey, allegedly to deter them from making the dangerous and illegal journey across the Aegean Sea.
Under a provisional agreement reached last week, Turkey is to accept all migrants, in return for more money, faster visa-free travel for Turks and increased pace of EU membership negotiations. In return the EU would accept one Syrian refugee directly from Turkey for each migrant who illegally reached the European shores.
In Madrid, some 16 NGOs and associations gathered in strength to protest the draft agreement.
READ MORE: Spanish regions slam Madrid over inaction in refugee crisis
"We openly and unconditionally oppose what they intend to do in Brussels," said Esteban Beltran, director of Amnesty International (AI) in who read out a public manifesto in the heart of Madrid, standing before the Ministry of Foreign Affairs.
As activists urged the government of Mariano Rajoy to veto the deal, Beltran told the crowd that "human rights are violated" by the agreement.
"We are against decisions that have been taken by the EU and their states; that are unable to find a satisfactory decision compatible with the drama of the situation of those who are living, the millions of people who are gathered in Turkey, Lebanon, Jordan, at the gates of the EU, where walls and fences are raised to prevent entry," European Trade Union Confederation president Ignacio Fernandez Toxo told Ruptly.
Ahmed, a refugee who has settled in Spain, addressed protesters, declaring "today we are here to denounce this preliminary agreement as illegal, immoral and inhumane," adding that "no one chooses to be a refugee, nobody likes to leave home."
"We ask you to be a human; that you treat these people as they deserve, as human beings. To us, all deaths in the world hurt us in the same way," he added.
In addition to Madrid, more than 120 groups in their thousands joined demonstrations in more than fifty Spanish cities.
In their manifesto, the protest organizers labeled the new agreement illegal, immoral and shameful, claiming that EU initiative violates the Universal Declaration of Human Rights, the Charter of Fundamental Rights of the European Union, and the Geneva Convention for refugees.
You can share this story on social media: