Italy to adopt food waste laws to save €12 billion annually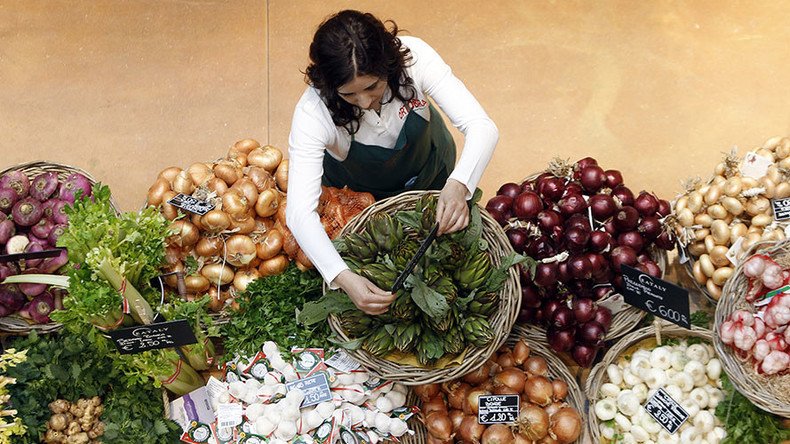 Italy could become next in line after France in the EU to force supermarkets and restaurants to abide by new laws to combat food waste. Businesses throwing away unsold food costs the economy €12 billion a year.
Having passed the lower house on Monday, the bill is currently being discussed by the Senate. The document has received widespread bipartisan support and is a collection of 17 articles involving both food regulations and fiscal matters.
Every year Italy wastes an estimated 5.1 million tons of food, a sizeable part of which is still fit for consumption. Currently there are several saving-oriented schemes being operated by non-profits Food Bank and Last Minute Market.
​READ MORE: Adieu to food waste: French govt forces supermarkets to donate to charity
If the bill passes the final hurdle, Italy will become the next EU nation after France which decided to adopt the approach in February, albeit with a difference: while the French seek to punish supermarkets and restaurants who throw away unsold food with a hefty fine of €75,000, the Italians are adopting a reward-based approach.
"Punishing wasters is not so helpful: this is all about encouraging donations," Democratic Party MP Mario Chiara told La Republica. "It should be understood that recovered food isn't waste but the extension of good food. And this law makes it clear, because it is based on the concept of gift."
To make it more worthwhile for business owners, their saving efforts will be rewarded with generous tax cuts on waste disposal, depending on how much they manage to give away.
The bill effectively tackles several issues: it combats waste, saves on spending, alters consumer perspectives on wasting and saving, and recovers tons in nourishing, edible food for the needy.
The Italians are eager to see the initiative through. Current donation schemes involve bureaucratic hoops – for instance, supermarkets must declare any donations in advance. The new bill promises they only have to fill in a donation form once a month, listing all the food already submitted.
"We are making it more convenient for companies to donate than to waste," Agricultural Minister Maurizio Martina said, adding that the aim is to double the amount of recovered food in 2016 from 550 million tons to a billion.
One of the ways the new law will cut costs and save food is a proposal to amend the best-before regulation, meaning the food would still be fit for consumption after the date. And a further provision will look into changing the packaging, again, to be less wasteful. That issue alone will receive €1 million a year for the next three years. Apparently, using carry bags in restaurants to take leftover food home is not a usual practice in Italy.
However, lawmakers say the initiative won't work without the full cooperation of the people. After all, they are responsible for some 43 percent of the waste.
You can share this story on social media: