4 officers wounded in Brussels raid related to Paris attacks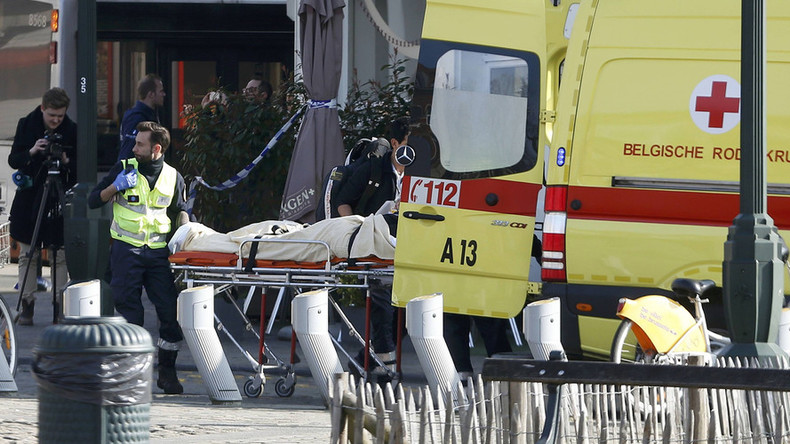 Four police officers were injured in Brussels during an anti-terror raid linked to the November terror attacks in Paris, according to federal prosecutors. The gunman armed with an assault rifle was "neutralized," but the hunt for other suspects continues.
"A suspect armed with a Kalashnikov was killed" when after a three hour standoff police finally stormed an apartment in the south of the city, prosecutors office said in a statement.
The incident took place during a routine a routine search, in which French police were also taking part. When the officers initially attempted to search the presumably empty premises "one or more people immediately opened fire on police the moment the door was opened by the security forces."
The suspect then reportedly barricaded inside the apartment as police reinforcement, including a SWAT team and a helicopter, were deployed to the scene. Armed police have locked down the area, telling residents to stay indoors. All schools and kindergartens in the area were evacuated as police cordoned off a wide area around the building in the southern suburb of Forest.
The suspect was shot dead in a raid the took place around 4:00pm GMT.
According to Belgian media up to two suspects may remain at large with police continuing operations to locate them.
The investigation is indeed still taking place, Belgian PM Charles Michel said during a news conference but did not elaborate and did not confirm reports that two suspects were on the run.
"We have escaped a tragedy," Michel said, as none of the four wounded officers was seriously hurt. Other ministers said that two of the four injured policemen had been released from the hospital.
The ministers also pointed out that the raid was not meant to discover a lot of new revelations regarding the investigation into the Paris November attacks by Islamic State.
"This operation is connected to the Paris attacks," a spokesman for Belgium's federal prosecutor told Reuters. However, French police assisting with the operation was a mere "coincidence" rather than an indication that the search had been expected to provide a breakthrough.
"A body was found during the search of the building in the rue de Dries. The identity of the dead person yet unknown, but in any case it is not Abdeslam Salah," said Eric Van Der Sypt, spokesman for the federal prosecutor.
The Forest neighborhood is close to Molenbeek, home of several people involved in the November 13 terror attacks which killed 130 people.
Belgian authorities are still on the hunt for suspects linked to the Brussels-based masterminds of the attacks. However, citing a French judicial source, a journalist for France Info tweeted that the operation is not targeting Salah Abdeslam, a prime suspect in the Paris attacks who is believed to have helped equip the gunmen and suicide bombers.
You can share this story on social media: