Pyongyang threatens nuclear warhead & more ballistic rocket tests
Published time: 15 Mar, 2016 05:09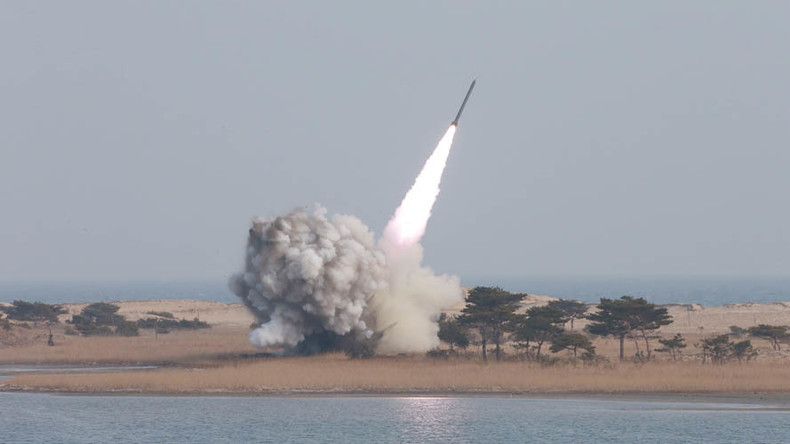 North Korea has promised to carry out further nuclear tests involving a nuclear warhead and ballistic missiles in defiance of UN sanctions slapped on Pyongyang for its latest nuke test and a ballistic rocket launch earlier this year.
"A nuclear warhead explosion test and a test-fire of several kinds of ballistic rockets able to carry nuclear warheads will be conducted in a short time to further enhance the reliance of nuclear attack capability," North Korean leader Kim Jong-un said according to the Korean Central News Agency (KCNA).
Kim made the announcement during the environmental simulation for a ballistic missile re-entry technology test where he once again boasted of his country's achievements in the field.
"We have proudly acquired the re-entry technology, possessed by a few countries styling themselves as military powers ... thus making a great progress in the ballistic rocket technology that helps strengthen the independence of the country's defense capability and munitions industry," the statement said.
South Korea's defense ministry however has refuted North's claims of possessing the technology as unconfirmed. "What North Korea announced today was North Korea's one-sided claim," Moon Sang-gyun, the ministry spokesman said according to Reuters.
Tensions are at their ultimate high in the Korean peninsula after Pyongyang's nuclear test on January 6 and February's satellite rocket launch. As a consequence the UN Security Council slapped toughest sanctions on the North.
Despite strong international condemnation, Korea continues to aggravate tensions on the peninsula, threatening to make "pre-emptive attacks" against Seoul and Washington, as both countries continue to conduct joint military drills in the area.
Last week, Kim warned of "nuclear strikes at the enemies from anywhere on the ground, in the air, at sea and underwater."