9,000 sorties, 400 localities freed: What Russia has achieved during its 5-month Syria operation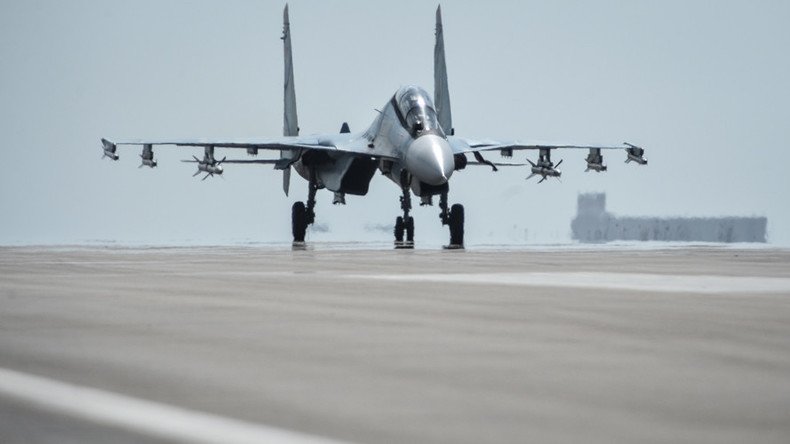 As Russia's Vladimir Putin announced the start of the withdrawal of Russian forces from Syria, Defense Minister Sergey Shoigu has reported the anti-terror operation's achievements to the Commander-in-Chief.
"Backed by our aviation, Syrian forces have freed 400 populated areas and over 10,000 square kilometers [3,860 square miles] of territories," Shoigu said during a Kremlin meeting with Russia's President Vladimir Putin on Monday.
Terrorists have been forced out from Latakia and Aleppo, and Palmyra has been "blocked," the military official reported to Putin, saying that military actions to free the UNESCO heritage site from militants continue. Hama and Homs Provinces in central Syria have been largely mopped up, and Kuweires airbase that had been besieged by terrorists for over three years was retaken.
Saying that Russia's Air Force in Syria has conducted more than 9,000 sorties starting from September 30, 2015, the Defense Minister added that for the first time massive strikes at a range over 1,500 kilometers [930 miles] with both air and ship-launched missiles have been conducted.
With Russia's support from the air, the Syrian army managed to retake control of oil and gas fields near Palmyra. Three large fields have already started functioning in normal mode, the minister added. In all, 209 oil production facilities and almost 3,000 oil delivery vehicles have been destroyed by Russia's airstrikes.
"As a result of airstrikes, terrorists' resources' provision has been largely cut," Shoigu told Putin, saying that petroleum trade routes with Turkey, as well as main routes of weapons provisions to terrorists have been blocked.
The Russian campaign also reduced the threat posed to Russia by Islamic militants, as over 2,000 fighters from Russia have been "eliminated" in Syria, including 17 field commanders.
To strengthen the progress achieved, Russian continues the aerial monitoring of the ceasefire's observance.
"A fairly large number of unmanned aerial vehicles – over 70 – are being used for this purpose, as are all means of gathering intelligence, including electronic intelligence and our satellite constellation," Shoigu stated.
You can share this story on social media: