Russia starts withdrawal from Syria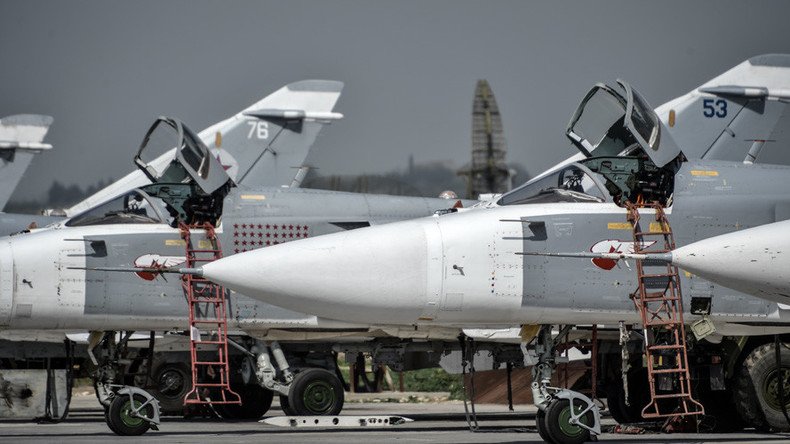 Russian President Vladimir Putin has ordered the start of the withdrawal of Russian forces from Syria, saying that its objectives have been largely achieved. Russia will however keep a military presence at the port of Tartous and at the Khmeymim airbase.
17 March 2016

06:36 GMT

The majority of Russian warplanes will leave Syria's Khmeimim airbase within two or three days, chief of the Russian Air Force, Colonel General Viktor Bondarev told Komsomolskaya Pravda newspaper on Thursday.

"I think, it [the withdrawal] will be done very quickly, according to schedule set up by the Commander-in-Chief and the Defense Minister. Maybe today or tomorrow ... we will definitely complete the objective within two to three days."

16 March 2016

06:49 GMT

US Secretary of State John Kerry's decision to visit Moscow on March 21-22 was made regardless of Russia's decision to reduce its forces in Syria, Kerry's office says. "[Kerry's] trip to Moscow is not a result of Putin's [decision]" a US Department of State official told reporters on Tuesday. "This is a discussion he [Kerry] and Lavrov had been having for a while." Earlier the same day American officials acknowledged that Moscow's decision to withdraw troops and hardware from Syria took them by surprise, as they learnt about the news from media reports. "There was no advance knowledge of Putin's decision," the US State Department commented. "News reporting is how everybody found out." US Secretary of State John Kerry was surprised, too, the official said, adding that "nobody knew it (the decision) was coming."

06:44 GMT

The Russian Air Force withdrawal in Syria has come as no surprise to Damascus. Dr Bouthaina Shaaban, political adviser to the Syrian president, told RT: "This decision is to a certain extent conditioned by the success of the ceasefire agreement implemented earlier."

"Attempts to present Moscow's actions as applying pressure on Damascus are groundless. Moscow made the decision after consultations with the Syrian leadership and with consideration of the situation on the battlefield," Shaaban told the Al Mayadeen TV channel, adding that Syria "maintains its own independent position while Moscow remains its ally and friend."

06:17 GMT

Another group of Russian warplanes has left Syria's Khmeimim airbase. They are heading for their bases in Russia. The group consists of a cargo Ilyushin Il-76 and Sukhoi Su-25 fighter jets. Each group leaving Syria has a lead aircraft, an Il-76 or Tupolev Tu-154, which carries engineering and technical personnel and equipment. The planes follow the leader throughout the flight, stopping at Russian military airfields to refuel.

15 March 2016

20:23 GMT

A full implementation of the Minsk ceasefire agreement in eastern Ukraine as a condition for any The US is monitoring Russia's withdrawal from Syria, the White House said, adding that it had not warned by Moscow in advance of the move.

"It's obviously a move that we'll be watching. The earliest indications are that the Russians are following through, but it's still too early to determine on this point what impact it will have on the broader situation," Josh Earnest, White House spokesman, said at a briefing on Tuesday.

"If they continue to follow through ... then that would be a positive outcome," he said.

However, Earnest reiterated that Russia's military presence in the region had hindered peace talks in Syria.

19:49 GMT

Syrian opposition negotiators have demanded that the Syrian government present its ideas about political transition in detail. George Sabra, a negotiator from the opposition High Negotiations Committee, also said the that opposition delegation had handed it a proposal on a transitional government with full executive powers to be given to the UN special envoy for Syria, Staffan de Mistura. For his part, de Mistura said he wanted suggestions from all sides in order to be able to merge them into a common position.

18:10 GMT

A large crowd gathered at an airbase near Voronezh, Tuesday, to welcome the first group of Russian Air Force pilots returning from Syria.

16:12 GMT

European External Action Service (EEAS) spokesperson Catherine Ray commented on the Russian military withdrawal from Syria during a press briefing in Brussels, Tuesday.

15:09 GMT

Syrian President Bashar Assad's senior aide, Bouthaina Shaaban, called the withdrawal of Russian troops from Syria a "natural" step, adding that Russian forces had accomplished all the goals set by Russia and Syria. She was speaking to RT Arabic. Shaaban stressed the United States should influence the parties opposed to the peace process more actively.

"We expect that the USA will apply greater pressure on those who are against the resolution of the situation in Syria," she said as quoted by RT Arabic.

13:55 GMT

The farewell ceremony took place at Hmeymim airbase in Latakia Province as Russia started its military withdrawal from Syria.

Deputy Defense Minister, Nikolay Pankov, who attended the event, praised the "high performance" of the Russian air grouping and the Syrian army, saying that its actions "allowed us to damage the terrorists, to disorganize their command and control and to undermine their economic potential."

"Thanks to this it became possible to intensify the offensive of Syrian governmental forces and to liberate more than 200 localities," Pankov stressed.