Russian-ESA ExoMars mission to pave way for future teamwork on Moon & Mercury – Roscosmos head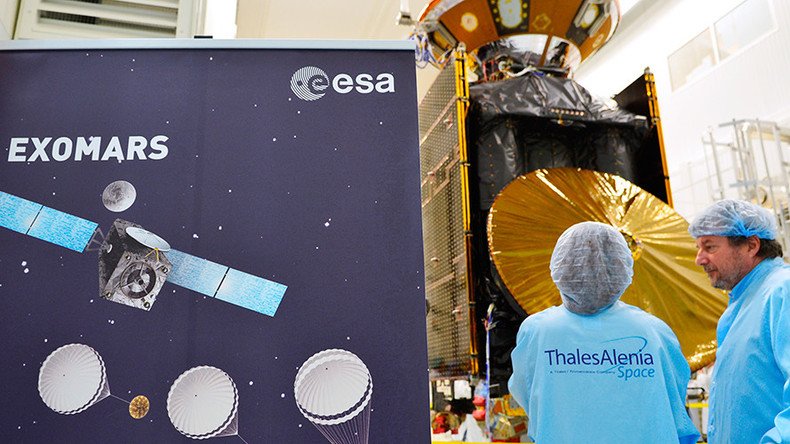 The ExoMars 2016 mission has been hailed as a first step towards closer ties between Russia and Europe in space exploration as it begins a six-month journey to the Red Planet to look for traces of life.
ExoMars is a joint project being carried out by the European Space Agency (ESA) and Russian space agency Roscosmos to reach and explore Mars. It has been described as "just a beginning" that will hopefully lead to new missions to the Moon and even Mercury, Roscosmos head Igor Komarov and the director of the Space Research Institute of the Russian Academy of Sciences, Lev Zeleny said at a media briefing in Kazakhstan's city of Baikonur.
The mission to Mars is a good opportunity to "leave all the problems on Earth and work together in space," Komarov stressed. His viewpoint echoed that of ESA Director General Jan Wörner, who noted that astronauts "don't see [state] borders from space" and "space can solve earthly problems."
#ExoMars brief: Even after Crimea conflict we launched Rus EU & US astronauts, building a global alliance in space, building bridges- Wörner

— Daniel Hawkins (@DanhawkinsDh) March 13, 2016
The preparation process has been going according to plan and everything is ready for the launch from the Baikonour cosmodrome at 09:31 GMT on Monday, March 14, the team has confirmed.
The ExoMars spacecraft is expected to travel nearly 496 million kilometers (308 million miles) before reaching its destination in October. The first stage of the mission involves looking for methane sources and finding a landing site for the second-stage ExoMars rover, which is to be launched in 2018. The rover will be equipped with a drill capable of reaching beneath Mars' surface.

If the mission comes across organic samples, these findings could revolutionize our understanding of the origins of life in the solar system and on Earth, ExoMars experts have said in past interviews.

Some €850 million (nearly $942 million) was allocated to the two-part project by the ESA governments back in 2009. Russia's part in the mission initially involved providing rocket transport for the European agency only. However, after some time, Moscow insisted on equal partnership.
You can share this story on social media: