'I'll avenge Osama': Man arrested at US embassy in Berlin after claiming he had bomb
Published time: 11 Mar, 2016 15:47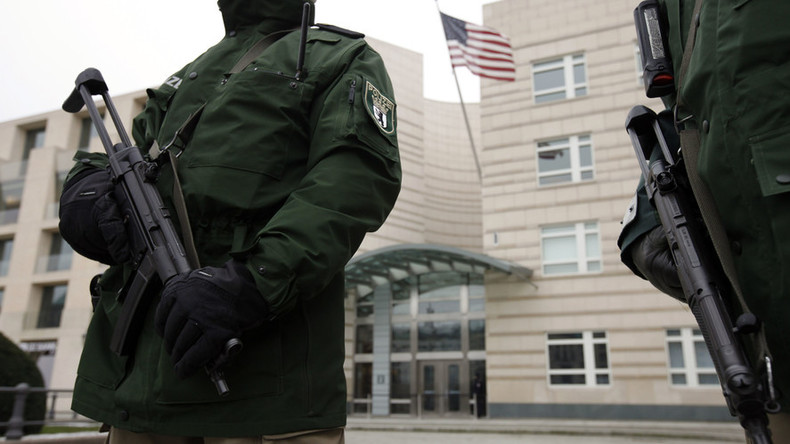 A "psychologically disturbed" German man was arrested at the US embassy in Berlin on Friday after claiming he had a bomb inside his suitcase. German media reported that he wanted to "avenge" the death of Osama bin Laden.
The incident began at around 7.25am local time, when the 23-year-old man presented security personnel at the embassy with an American passport, saying he wanted to renew it. He then punched a guard when he was told to go to a different location for the renewal.
"When the embassy's local guard offered a card with the address for passport services, the man struck the guard with his fist," the embassy said in a statement.
The guard managed to pin the man down, and he was subsequently handcuffed by Berlin police. As he was being arrested, he "yelled that he had a bomb in his suitcase," which was situated at the embassy entrance.
The area was promptly cleared and a police robot was brought in to open the suitcase. However, police confirmed that only "personal items" were found in the bag.
According to the Berliner Morgenpost, the man shouted "I will avenge Osama!" – though police have yet to confirm that report.
Although few details were immediately available, police identified the man as being German.
"There are many indications he is psychologically disturbed," police spokesman Jens Berger told AP.
Operations at the embassy building have returned to normal.