'Shocking how many people died in Fukushima' – documentary director to RT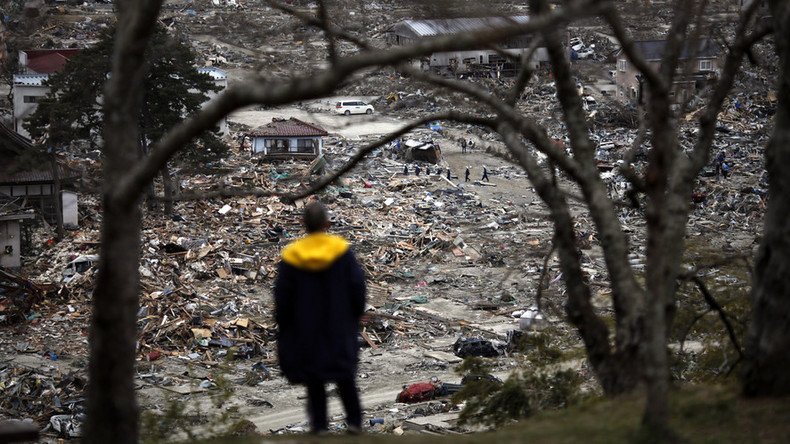 Five years ago a killer tsunami knocked out the Fukushima Daiichi nuclear plant, spewing radiation and forcing 160,000 people to flee their homes. Authorities in Japan want locals to think "nothing happened," documentary director Jeffrey Jousan told RT.
"The government prints the number of people who died as a result of the 2011 disaster in the newspapers every day. [In some other prefectures], the [death toll] amounts to 300-400 people in each prefecture, but in Fukushima it is over 8,000 people," Jousan, a US director and producer who has been living and working in Japan since 1990, said.

"It is very telling about the situation in Fukushima. It is hard for everyone who is affected by the tsunami, who lost their homes and lost their families. But [in Fukushima], people are not able to go back home, they are unable to work because people won't buy food from Fukushima, farmers cannot farm anymore. It is affecting people, and more people are dying because of that.

It is shocking… to see [how] many people have died in Fukushima," the co-director of the documentary film 'Alone in the Zone' told RT.
The Fukushima nuclear disaster, said to be the world's second worst after the 1986 Chernobyl tragedy, brought about the closure of all of Japan's 44 working reactors, responsible for producing nearly a third of the national energy output. Naoto Kan, a former Japanese prime minister, recently told the Daily Telegraph that, five years after the disaster, the Fukushima Daiichi nuclear plant continues to pose a threat to the ecology and humans around it.

While an area within 12.5 miles (20km) of the plant remains an exclusion zone, it is still unclear how many people have succumbed to or suffer from radiation-caused cancer diseases directly linked to the crippled plant. Almost 10 percent of people still live in temporary housing across Fukushima prefecture.

"What happens now is that some people are slowly leaving, so you have smaller and smaller communities in these temporary housing areas. [Some] people have gotten used to being there and some of the places have developed strong tight communities… and now [they] are starting to be torn apart because little by little people are leaving," Jousan said, adding that moving into new housing with new neighbors and new environment can also be a change.

"Some of the communities that were in the initial 20km exclusion zone have been opened up for people to live [there] again. In one place, only 6 percent of the original residents moved back into the town. There are no people there, no facilities, the schools are not working, even public officials do not live in the town…"
According to the US filmmaker, living in temporary housing is quite unpleasant. "The houses are very small, you can hear people through the walls, you can hear people flushing the toilet three or four floors down. In the places where the communities are not very strong, there is still a lot of animosity between neighbors, lots of people just stuck inside and never come out."

READ MORE: Nuclear reactor in Japan leaking radioactive water amid nationwide restart
Jousan is also a co-creator of 'Women of Fukushima', a documentary about six Japanese women who bluntly speak out about the clean-up operation and say how the Fukushima disaster affected their lives.

"There is a lot of depression, the suicide rate is … getting higher. The next five years are going to be very hard. Communities are falling apart and people get disjointed again. There is going to be more people feeling bad and unhappy about this situation," Jousan said.

Earlier this month, Greenpeace warned against the government's decision to lift a number of evacuation orders around the Fukushima plant by March 2017, adding that "the impacts of the disaster will last for decades and centuries."

Meanwhile, the government is busy launching its incineration plans to burn contaminated trees and garbage and leaves across the country.

"Now they are burning it and releasing some [dangerous substances] into the atmosphere. [People protest], they say it should not be burned," Jousan noted.
You can share this story on social media: