Somali imam arrested in Italy for planning attack on Rome's main train station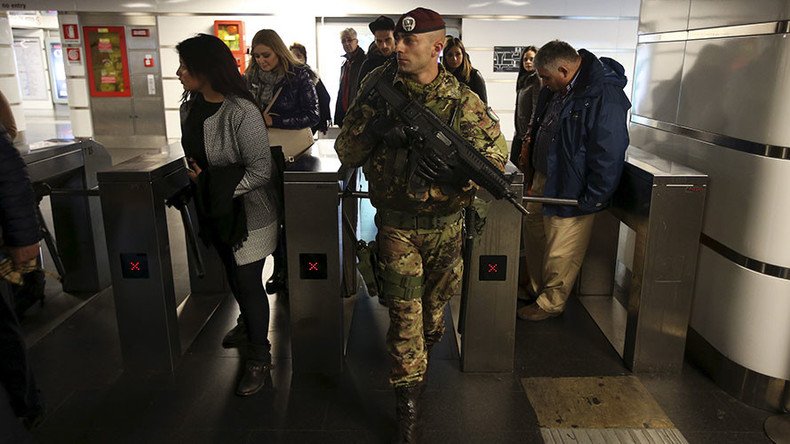 A Muslim cleric from Somalia who came to Italy as a refugee has been detained by police for allegedly planning an attack on Rome's central Termini train station.
The 22-year-old man, whose name hasn't been disclosed, was taken into custody at a refugee center near the city of Campobasso in central Italy on Wednesday, Corriere Della Sera newspaper reported.
The arrest was preceded by two months of investigative work, involving phone tapping and hidden cameras, which allowed law enforcers to gather comprehensive information on the young imam's radical views.
During his services at the refugee camp, the man frequently spoke in support of Islamic State (IS/ISIS, formerly ISIL), Al-Qaeda and Al-Shabaab terror groups and encouraged refugees to join the jihad.
"Charlie Hebdo was just the beginning, the war continues," he was heard saying, referring to the shooting at the satirical magazine's headquarters in Paris last January, in which 12 people were killed.
However, the Somali expressed the belief that using fire arms wasn't the best way to carry out the attack as "there's an easier way to equip [a bomb] and to blow yourself up."
The cleric's views were so extreme that some worshipers opted to drop out of his services, the police said.
He was also recorded saying: "Let's start from Italy, let's go to Rome and start with the station."
The Wednesday arrest was made on the very day the imam planned to go to Rome and carry out the attack on the Termini train station.
In January, Italian police arrested a 25-year-old Moroccan man in Calabria, who was also suspected of preparing a terrorist attack, with terrorist training manuals being found in his home.
READ MORE: 2 teenage girls sexually assaulted by Afghan migrants at German waterpark
The country's law enforcement has been on high alert since the Paris attacks on November 13, which saw 130 dead, as Rome was mentioned among the targets in an Islamic State video released shortly afterwards.
Italy is currently hosting 100,000 migrants who crossed the Mediterranean sea from Libya, as part of the biggest refugee crisis faced by Europe since World War II.
You can share this story on social media: