Powerful blast reported in Moscow residential building
Published time: 10 Mar, 2016 16:26
Edited time: 10 Mar, 2016 20:27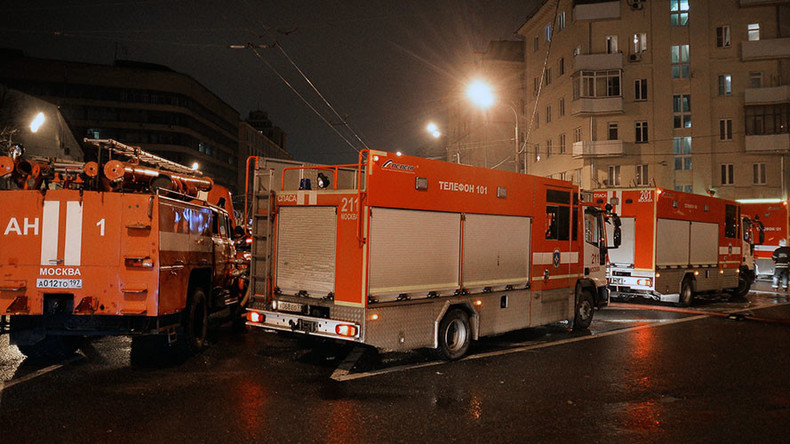 A powerful blast followed by a fire reportedly ripped through a block of apartments in the Russian capital on Thursday evening. At least one person has been killed and 13 have been injured.
"According to the latest data, 13 people have been taken to the hospital, including three children. One person died from severe injuries at the hospital," a source told RIA Novosti.
Authorities say the blast was caused by improper handling of an open fire during construction work. A gas explosion had initially been suspected. The Investigative Committee is now telling TASS that some flammable liquid ignited.
Heavy smoke could be seen rising from the building in southeastern Moscow, photos posted on social media by witnesses show.
Some reports on social media suggest that the blast blew a man through a window.
At least 15 people have been evacuated from the 14-story building in the Lefortovo neighborhood, sources told RIA Novosti.
The fire erupted on the seventh floor of the building, TASS reported, citing Emergencies Ministry sources. Interfax reported that the fire was brought under control within an hour.
A witness, who called the fire brigade and an ambulance, told Govorit Moskva radio station that people were having trouble leaving the burning building.
"I'm very scared. The blast occurred at the house opposite the street. I called the firefighters and an ambulance. I saw a flashlight at the window in the ninth floor. People are unable to leave the building, they are using flashlights. Firefighters are standing at the main entrance," she said.
Other witnesses confirmed her account.
"The blast was very strong. The windows of the nearby buildings are broken. People are screaming that they are unable to leave. Doors are blocked. Firefighters are having trouble coming to the area because of the traffic jam," another witness told the radio station.