Syrian refugees welcomed by furry friends at Canadian convention (HEARTMELTING PHOTOS)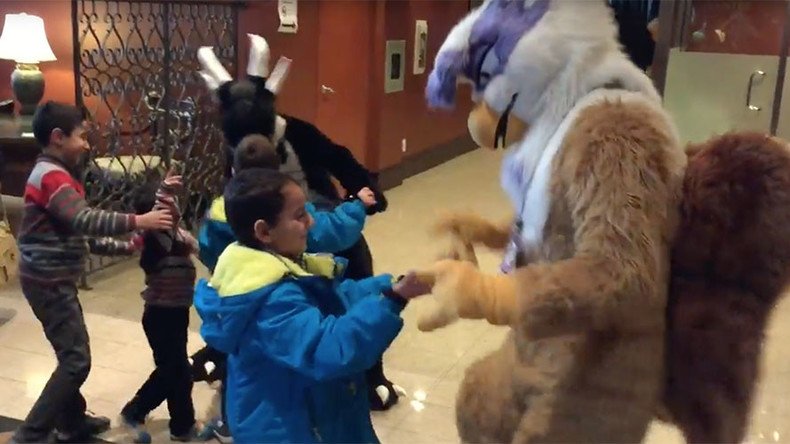 Syrian refugees that arrived to Canada by plane were housed in the same hotel as an annual 'furry convention' and despite worries that the exhausted children would be scared, they totally loved it.
VancouFur has been held in Vancouver for the last five years, but this time was different because it was organized in the same hotel chosen as temporary accommodation for Syrian refugees.
The convention is a get-together for fans from all over the world, who dress up as fictional anthropomorphic animal characters with human personalities.
"It's really like any other comic or video game convention, where people get together to celebrate similar interests," chair of VancouFur 2016, Cekuba, told Vancity Buzz ahead of the convention.
Keeping in mind the delicate state refugees were likely to be in, the organizers issued a memo asking attendees whether they knew Arabic, and reminding them that some hand gestures could also be unfamiliar.
"A major concern that VancouFur has is ensuring that each and every one of the refugees (and attendees) feels welcome and safe and the fact that this is likely to be a major shock to them," the underlined part of the message read.
"Keep in mind that they likely will not want to interact with you and consent is important to everyone," the organizers emphasized in bold lettering.
But as the photos and videos show, the kids loved it: they can be seen dancing with the furries and generally having a blast. Attendees later took to social media to express how their interaction with the refugees was a true highlight for them during the event.
"One of many highlights to me was when the new group of Syrian Refugees children came in and got to interact with us. To them we were cartoons come to life, to us was a means to display our acting performance to a very appreciative audience. Win-win all around. The parents interacted too and took photos with us as well, so kewl," attendee Mike Schmidt commented on a related story on Vancity Buzz.
Canada has made a big effort to give refugees a warm welcome: the Canadian prime minister, Justin Trudeau, personally greeted the flight at the Vancouver airport and several videos of Canadians welcoming refugees went viral, including the one with kids saying "see you in school."
You can share this story on social media: